Pictures of Reese Witherspoon, Brad Pitt, Mariah Carey, Robin Williams, Carrie Underwood and Teri Hatcher at Idol Gives Back
Idol Gives Back and Puts on a Big Show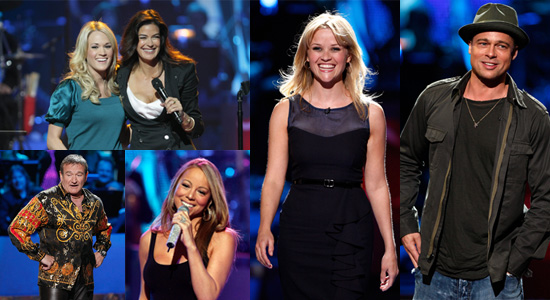 1
Idol Gives Back and Puts on a Big Show
We brought you pictures from the arrivals room earlier and now we've got some great shots from the Idol Gives Back show too, which took place yesterday at LA's Kodak Theater. Reese Witherspoon looked gorgeous as ever in a simple LBD, whereas Robin Williams went colourful in his sunshiney outfit. Brad Pitt had some technical difficulties with his microphone, but ever the professional he looked unfazed. Carrie Underwood stood side by side with Teri Hatcher (she's got guts to sing in front of millions!) and Carrie also performed George Michael's "Praying for Time". She said:
"That's a song that I've always loved, and I've always loved the message... It took me forever to be able to sing that through without crying, and I know if that song made me feel that way, maybe it will make a few other people feel that way as well and maybe make them feel strongly about doing something."
I can't wait 'til Friday to see Carrie's performance and all the other stars on stage — particularly Fergie's cartwheels during her performance with Heart. Good times!
To see a whole load more from the star-studded event, including Fergie and Heart, Annie Lennox, the American Idol contestants, Sarah Silverman and Jimmy Kimmel, read more
Images include: Annie Lennox, Carrie Underwood, Fergie, Gloria Estefan, John Legend, Miley Cyrus, Paula Abdul, Randy Jackson, Ryan Seacrest, Simon Cowell, Snoop Dogg, Reese Witherspoon, Brad Pitt, Teri Hatcher, Adam Levine, Mariah Carey, David Spade, Sarah Silverman, Ann Wilson, Nancy Wilson, Charlie Wilson, Jimmy Kimmel, Billy Crystal, Carly Smithson, David Cook, Brooke White, David Archuleta, Michael Johns, Kristy Lee Cook, Jason Castro, Syesha Mercado
Latest