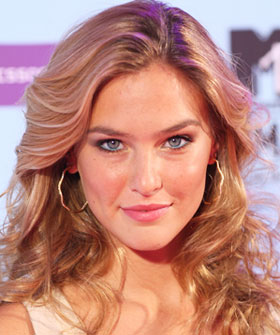 I asked, and you voted that
Bar Refaeli
was last night's red carpet beauty queen.
Personally, I was kvelling over her wavy hair, but when I looked a little closer, I noticed her awesome shimmering blue- green eyeliner that was enhanced with a hint of gold in the inner v of her eyes.
Paired with a creamy pink pout and tanned, flushed cheeks, Bar's makeup was aces. Her face was polished, young and fresh looking and that hint of metallic eyeliner gave her a current edge.
Shop Bar's MTV EMAs beauty look below!
Achieving her look is fairly straightforward, and with the help of a little bronzer and the right brushes, I know that all of you beauty junkies can handle this one. However, for details on how to create that perfect finishing touch on her eyes, I'll lend a hand with a few helpful hints. To find out what they are, just read more