$1,000 Thousand Dollar Face Cream Anti-Ageing From La Prairie. La Prairie Cellular Cream Platinum Rare
La Prairie Launches Thousand Dollar Cream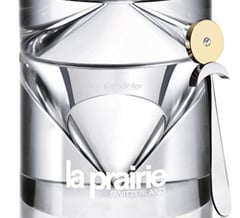 While the rest of us try to rein in our beauty spending during the credit crunch it seems the rich are still happy to be splashing out on lotions and potions. La Prairie Cellular Cream Platinum Rare is now available in the US and is expected to hit UK counters within six to nine months.
At $1,000 for 1.7 ounces, Cellular Cream Platinum Rare is La Prairie's most expensive item, but Lynne Florio, worldwide president of the Beiersdorf AG-owned brand, told WWD that it is finding an audience in these extremely price-conscious times."There is a relationship between the investment, the value and the results you see" said Florio. Not that the cream is being aimed at just anyone, think of the Birkin bag carrying models and A list actresses who regularly splurge on La Prairie and you get a clearer picture of their target market.
For how the cream works just read more.
The cream itself has been created to work on a cellular level to promote a youthful complexion. The platinum, peptide, vitamin and antioxidant-infused formulation is designed to offer intense moisture to the skin, while at the same time helping it to adapt to climatic and environmental assaults. The hoped for result is a marked reduction in the appearance of fine lines and wrinkles.
According to WWD industry sources estimate Cellular Cream Platinum Rare could account for 10 percent of La Prairie's worldwide sales this year, which are projected to reach $400 million. All of which makes my habit of spending £50 on a pot of face cream seem practically frugal. Buying Clarins has never been so sensible.