2009 BAFTA Awards Beauty
Behind The Scenes at the 2009 BAFTA Awards with BellaSugarUK
Celebrating its ninth year as the official BAFTA Awards sponsor, Lancôme decided to debut a limited edition collection to mark the occasion. The eleven-item range contains a bright red lipstick, black, red and pink ultra-shiny glosses, black and brick red nail varnishes, mascara, primer, foundation, highlighter and powder. It was created by new Lancôme Makeup Artistic Director Aaron De Mey (an eclectic young thing) and will be available until 28 February.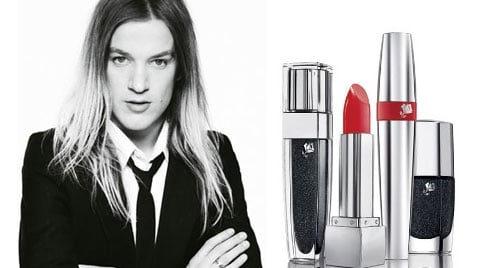 I was lucky enough to get invited to the swanky style suite at the Dorchester Hotel and get my very own red carpet makeover from Benjamin Rousseau. I think it's fair to say in my experience having so many makeovers, that Benjamin's talent far exceeded my expectations. His technique was unique and meticulous, plus, he's a pleasure to be around.
I loved how he flipped around his powder brush explaining how he was dusting and setting at the same time, and the way that he shaded and contoured my face with foundation, brightener and bronzer to attract and deflect light, ultimately accentuating my best features and downplaying my worst. For exclusive behind the scenes photos and to find out exactly what products Benjamin used to create my award winning look, read more.
SKIN: Before Benjamin even began, he cleansed, toned, and moisturized my face using six products. He used the new Genefique all over. Once it dried, he applied a serum to my face and neck, eye cream (so that it protected my eyes from the harshness of the face cream) then a face cream for a dewy and hydrated base.
FACE: Benjamin believes it's important to spend the most time on your complexion. He began using La Base primer and then mixed two foundations for the perfect blend. Next came concealer, bronzer and a Flash Retouche highlighting pen to contour and shade. Everything was meticulously applied with a brush and blended to a porcelain finish.
CHEEKS: Because he spent so much time covering up the natural pinkness in my cheeks that he applied a light bronzer just below my cheekbones for warmth and contour. Next came a light dusting of shimmery Diva Powder for pizzaz.
EYES: Watching him create a smoky eye was like watching a sculptor take a pile of clay and turn it into a masterpiece. He began using a beige lipstick on the lids as a primer. Next, he drew fierce black lines above and below my eyes that he would later blend, however, before the blending came the deep purple shadow (to bring out the green. The blending and shading (he also added some of the bronzer just above the crease) took upwards of twenty minutes, but it was worth the wait. To finish, he lined the inner rims with black liner, the upper and lower lash lines with a liquid liner and added a lash primer and a hefty coat of black mascara.
LIPS: Lastly came the lips. Benjamin created a palette on the back of his hand and mixed each of the black, red and pink lip glosses with a little bit of shimmery white eye liner (to brighten up the colours) and then dabbed them on my lips with his finger. The result was a balmy stain that looked natural and fresh. He topped off the look with a shiny clear gloss and then rubbed a little on the highest point of my cheekbones to pull the look together.