2009 Cosmopolitan Beauty Awards
Behind The Scenes at the 2009 Cosmopolitan Beauty Awards
On Tuesday morning, at the Kensington Roof Gardens in London, Cosmopolitan UK threw the 7th annual beauty awards bash of the year! Besides the flowing array of nibbles, coffee and tea, 82 products (and their trophy's) were showcased around the room for editors, PR's and guests to admire and test. Justine Southall (pictured on the far right), Cosmo's Publishing Director spoke about the state of affairs at the magazine whilst Ingborg Van Lotringen, Cosmo's Beauty Director presented the two newest awards for Breakthrough Product to Clairol Perfect 10 and the Classic Award to The Body Shop Body Butters.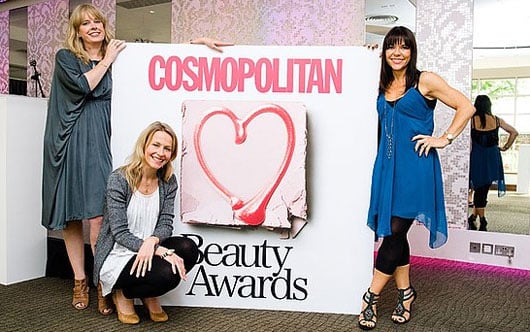 This year's panel of judges included Alesha Dixon, Rachel Stevens, facialist Anastasia Achilleos, makeup artists Caroline Barnes and Lee Pycroft, hairstylist Errol Douglas, Cosmo Editor Louise Court and Cosmo Beauty Director (pictured in the grey dress) and Ingeborg van Lotringen (kneeling). There were a total of 13 categories ranging from hair styling and treatments, to skincare, makeup and suncare and, 16 products were granted the 'Readers' Kiss Of Approval' award by those who voted via the magazine or online.
To check out the exciting full list of winners, read more.


Cosmo Beauty Classic Award:The Body Shop Body Butters
Cosmo Beauty Breakthrough Award: Clairol Perfect 10
Lips
Best Colour-Rich Lipstick: YSL Rouge Volupté Lipstick
Best Sheer Lipstick: Chanel Aqualumière Sheer Colour Lipshine SPF15
Best Lip Gloss: Dior Addict Ultra-Gloss Reflect
Best Lip Balm: Kiehl's Lip Balm #1
Readers' Kiss of Approval Ultimate Lipstick: MAC Lipstick
Eyes
Best Mascara: Estée Lauder Sumptuous Bold Volume Lifting Mascara
Best Eyeshadow: Rimmel London Colour Mousse Eyeshadow
Best Eyeliner: Clinique Cream Shaper For Eyes
Best Eye-Colour Palette: Givenchy Prisme Again! Eyeshadow Quartet
Readers' Kiss of Approval Ultimate Mascara: Maybelline New York Great Lash
Cleanser
Best Cleanser: Kate Somerville Gentle Daily Wash
Best Facial Refresher:Dermalogica Antioxidant Hydramist
Best Eye Makeup-Remover: Simple Kind to Eyes Eye Make-Up Remover
Best Facial Scrub: Olay Regenerist Daily Thermal Skin Polisher
Readers' Kiss of Approval Ultimate Cleansing Wipes: Simple Skincare
Face
Best Foundation: Chanel Mat Lumière Long Lasting Makeup SPF15
Best Blemish Concealer: Bobbi Brown Face Touch-Up Stick
Best Tinted Moisturiser: Olay Complete Care Touch of Foundation
Best Face Powder: MAC Blot Pressed Powder
Best Cream/Liquid/Gel Blush: Max Factor Miracle Touch Creamy Blush
Best Powder Blush: MAC Mineralize Blush
Best Bronzer: Guerlain Terracotta Moisturising Bronzing Powder
Best Under-Eye Brightener: La Prairie
Readers' Kiss of Approval Ultimate Blusher: Bourjois Little Round Pot Blusher
Readers' Kiss of Approval Ultimate Foundation: Maybelline Dream Matte Mousse
Skin
Best Everyday Moisturiser: Chanel Hydramax + Active Moisture Cream
Best 'Green' Skincare: REN Rose Synergy 012 Restoring Facial Serum
Best Face Mask: Chanel Sublimage Hydrating Masque
Best Blemish Buster: La Roche-Posay Effaclar K
Readers' Kiss of Approval Ultimate Moisturiser: Nivea Visage Anti-Wrinkle Q10 Plus Day Cream SPF15
Best Anti-Ageing Moisturiser: Dior Capture R60/80 XP Ultimate Wrinkle Restoring Crème
Best Age-Defying Serum: Estée Lauder Advanced Night Repair Protective Recovery Complex
Best Line-Fading Eye Cream: Givenchy Radically No Surgetics Day & Night Eye Treatment
Best Age-Busting Night Cream: Elizabeth Arden Prevage Anti-Aging Night Cream
Readers' Kiss of Approval Ultimate Anti-Ageing Product: No7 Protect and Perfect Beauty Serum
Best Body Cleanser: Good Works Good Karma Shower Gel
Best Body Scrub: Jo Malone Vitamin E Body Treatment Scrub
Best Bath Bubbles or Milk: Philosophy Field of Flowers
Best Bath and Body Oil: Aromatherapy Associates Revive Morning Bath & Shower Oil
Best Hair Removal Product: Gillette Venus Breeze
Best Body Moisturiser: Lancôme Nutrix Royal Body Butter
Best Deodorant: Dove Hair Minimising Anti-Perspirant Deodorant
Best Body-Firming Potion: Elizabeth Arden Prevage Body Total Transforming Anti-Aging Moisturizer
Readers' Kiss of Approval Ultimate Body Lotion: Palmer's Cocoa Butter Formula Lotion
Readers' Kiss of Approval Ultimate Hair-Removal Product: Gillette Venus
Hair
Best Hairspray: L'Oreal Paris Elnett
Best Volumiser: Shockwaves Styling Plus Gloss & Body Mousse
Best Frizz Controller: John Frieda Weather Works Style Sealant Crème
Best Home Colourant: Clairol Perfect 10
Best Shampoo: Charles Worthington Time Defy Moisture Renew Shampoo
Best Conditioner: Paul Labrecque Daily Condition Moisture Mud Instant Repair
Best Leave-In Treatment: TRESemmé Curl Hydration Leave-In Cream
Best Hair Mask: Kérastase Masque Chroma Riche
Readers' Kiss of Approval Ultimate Hair Colourant: L'Oreal Paris Excell 10'
Readers' Kiss of Approval Ultimate Shampoo & Conditioner: Herbal Essences Shampoo & Conditioner
Best Hairbrush: Goody Gel Handled Brushes
Best Make-Up Brushes: Daniel Sandler
Best Heat Styler: GHD IV Styler
Best Beauty Gadget: Neutrogena Wave
Readers' Kiss of Approval Ultimate Hairstyling Gadget:GHD IV Styler
Suncare
Best Facial Sun Protection: La Roche-Posay Anthelios Extreme Fluid SPF50
Best All-Over Sun Protection: Lancaster Suncare Tanning Lotion SPF15
Best Anti-Ageing Sun Protection: Clarins Sun Wrinkle Control Cream High Protection
Best After Sun: Lancaster Tan Maximiser Soothing Moisturizer
Readers' Kiss of Approval Ultimate Suntan Lotion: Nivea Sun Moisturising Sun Lotion SPF15
Self Tanning and Bronzing
Best Facial Self-Tan: Garnier Ambre Solaire No Streaks Bronzer Dry Face Mist
Best Body Self-Tan: St Tropez Self Tan Bronzing Mousse
Best Gradual Self-Tan: Palmer's Cocoa Butter Formula Natural Bronze Body Lotion
Best Wash-Off Body Tanner: Guerlain Terracotta Teint Doré Bronzing Spray for Body
Readers' Kiss of Approval Ultimate Self Tanner:St Tropez Self Tan Bronzing Spray
Men
Best Hair Texturiser: Fudge Matte Hed
Best Face Cream: Biotherm Homme Force Supreme Neutralizer
Best Shaving Lotion: Clinique Skin Supplies for Men M Shave Aloe Gel
Best Eye Cream: Lab Series Instant Moisture Eye Gel
Readers' Kiss of Approval Ultimate Aftershave: Boss Aftershave Lotion
Hands and Feet
Best Nail polish: Revlon Nail Enamel
Best Hand Cream: Jurlique Citrus Hand Cream
Best Foot Treat: Neutrogena Norwegian Formula Cracked Heel Foot Cream
Best Nail Rescuer:Sally Hansen Miracle Cure
Readers' Kiss of Approval Ultimate Nail Polish: OPI Nail Lacquer
Photos Courtesy of Jessica Long