60 Seconds With Carly Rae Jepsen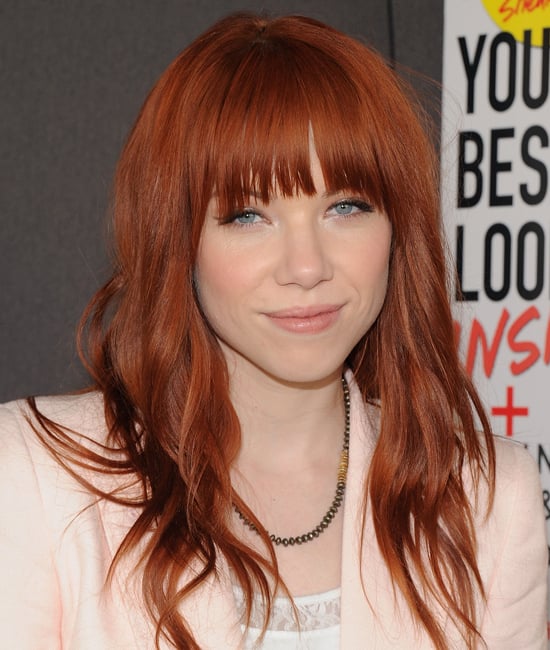 Carly Rae Jepsen catapulted to stardom with her catchy hit "Call Me Maybe," and now she has a partnership with Güd by Burt's Bees, the brand's line of natural shower products for the youthful crowd. The 27-year-old singer is on tour at the moment, but she took time out from her busy schedule to tell us all her beauty must haves, what inspired her new bright red hair colour, and who she looks up to in Hollywood.
POPSUGAR: When you're changing your hair, what's your motivation?
Carly Rae Jepsen: Usually it's spontaneity. I get to a point with my hair where I just need to change it for fun. The red was inspired by Disney. They asked me to play Ariel for the diamond release of The Little Mermaid. They did a new music video for "Part of Your World," and I got to play the part of her in real life. They said, "It's contemporary so you can be a brunette." But no, Ariel has to have red hair. So I dyed it extremely red for that, and then after, I toned it down for my day to day.
PS: What are the beauty essentials that you're always carrying with you?
CRJ: I always have mascara in my bag. On days off, I'm usually a mascara-and-go kind of girl — that and concealer. I like to be a total tomboy on those days. Usually I also have a pen and paper in my bag to scribble down any ideas, and my camera, my phone, a little lip gloss, and red lipstick. I use Lady Danger by MAC Cosmetics. It's kind of the perfect colour red for dressing you up when you're not wearing a lot; you just need that and then you slick your hair back and it's fine.
PS: Was there ever a style that you look back and think, "I never should have tried that"?
CRJ: Oh, absolutely. That's half of the fun of experimenting is looking back and thinking, "What was I thinking?!" I think it's part of being brave. You have to be willing to make some doozies, and every once in a while those happen. But most of the time with trying something new, I find I'm happy that I experimented. But I think the biggest blooper I made on stage was when I was wearing a pink thong and I spun during one of the songs and flashed the audience. It was halfway through the spin when I realized. It was really awkward, but I just played it up and asked, "Did you like my pink underwear?"
PS: Who are the women you look up to beauty-wise?
CRJ: I always thought Kate Bosworth was super classy. I love her style and how she comes across in any interview. She's just really composed and classy. I also like Rachel McAdams: she's kind of darling, so she's hard not to love.