Agua Spa at the Sanderson Hotel Introduces a Healthy Cuisine Menu
Last week I enjoyed a spa afternoon at the lovely Sanderson Hotel in central London. Whilst its Agua Spa opened ten years ago alongside the hotel, they have just introduced a unique spa menu called Agua Spa Cuisine to complement each of the treatments.
As I entered the white space designed by Philippe Starck, I felt immediately relaxed, as it looks like something you might envision behind the pearly white gates of heaven. There are very few walls in the spa, only drapes, so the atmosphere is calming and peaceful. After checking in and changing into my soft waffle robe, I was escorted by the lovely Elena to a private room where a heated water pad lay on the treatment table waiting for my arrival.
I nestled into my comfy bed and Elena explained that I would be receiving the Restorative Package which included an Eve Lom facial (with extractions, yay!) and an aromatherapy massage. I couldn't have been more excited about the next 115 minutes of my day.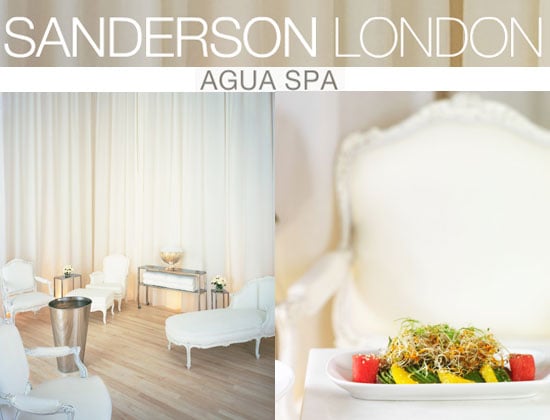 Elena began with a shoulder massage to help me shake off my tensions and then began the amazing treatments which got me to the peak of relaxation (yep, I'm pretty sure I nodded off for a few moments at the end). Once she was finished, I went back downstairs and nestled into a cosy chaise surrounded by drapes for privacy and watched telly until my meal arrived.
For more photos and to continue on about my experience, just read more.
I thoroughly enjoyed my vitamin, mineral and antioxidant packed lunch which included grilled turkey breast, quinoa, squash and watercress seasoned with garlic, ginger and lemon. It was light, yet filling and delicious. Each meal also comes with with a specific beauty juice, and I had the super-food smoothie that contained coconut, coconut oil, hemp seeds, dried figs and greens. It was a frothy perfection and didn't at all taste like I was drinking a glass of grass. I spoke with executive chef Peter Lloyd who said that this menu is a result of three months of research and development. He said that, "every plate is balanced with the right ingredients to help maximise the benefits of your spa experience."
All in all this was a wonderful treat. I enjoyed every moment and would absolutely recommend the Agua Spa to anyone looking for an easy urban escape. It's fairly priced and the treatments plus a lunch or dinner combo is a real bang for your buck. If you're wondering, everything is a la carte too in case you are just interested in popping by for a meal. For anyone that has Valentine's Day on their mind, throw in a night at the hotel too and you won't be disappointed!