Alexandra Burke's X Factor Makeup, Alexandra Burke Makeup 2009-10-12 06:30:00
How-To: Alexandra Burke's Fabulous X Factor Glow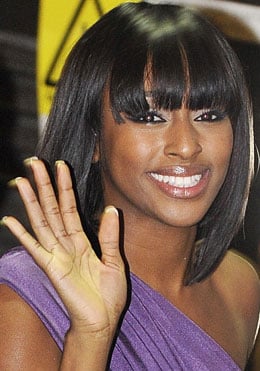 Alexandra Burked performed on last night's X Factor. Season Five's reigning champ looked beautiful in a one-shoulder purple dress and blunt-cut fringe and bob, however, her hair and clothing paled in comparison to her flawless skin and perfect makeup.
Don't you love how her overall look wasn't too heavy or too light? Rather it was just right with a heavier eye and a soft cheek and lip.
For those of you who are interested in recreating Alexandra's look at home, below is a sample of makeup products for you to shop.








And for step by step application instructions, just read more.
FACE: Begin with a clean, well moisturised face. Then, apply your concealer followed by a sheer creamy foundation that matches your skin tone. Blend well and set the foundation with a light dusting of translucent powder.
EYES: This eye look is so simple that even a novice can acheive it without worry. Start by sweeping a plain white, matte eyeshadow all over your lid from base to brow. Then, using a fluffy shadow brush, add in a touch of lavender to the crease and blend well in a back and forth (wind-shield wiping) motion. Next, curl your lashes and apply two coats of mascara.Then, line your upper and lower rims with a creamy black eyeliner. Lastly, apply false lashes to the corners of your eyes for a dramatic, dressy, evening effect. Oh, and don't forget to fill in your brows with a pencil or gel and then blend.
CHEEKS: To get this look, all you need is a light bronzer which should be applied to the areas of your face that the sun would naturally hit. Then, add a light sweeping of a nuetral blush to your cheekbones and a slight hint of golden powder highlighter to the very top of your cheekbones and down the centre of your nose.
LIPS:To balance out your dark rimmed eyes, apply a shiny nude lip gloss with a hint of sparkle all over your pretty pout!

.