All the Facts About Eye Cream
Skin Care 101: Eye Cream
As POPSUGAR editors, we independently select and write about stuff we love and think you'll like too. If you buy a product we have recommended, we may receive affiliate commission, which in turn supports our work.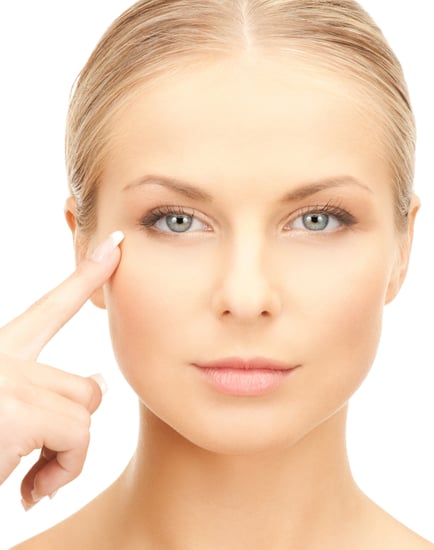 When you already have a moisturiser for your face, it can feel a little redundant to have an eye cream, too. But the delicate skin around your eyes deserves a little extra TLC. See the many benefits of eye cream, along with a few product recommendations, when you keep reading.
Why You Need It: Not all skin is created equal. Because the skin is thinner around your eyes and because of all the tiny muscles used for your eyes, the skin is more sensitive and prone to a variety of issues, like puffiness, discoloration, and fine lines and wrinkles. Plus, there are minimal oil glands around your eyes to help keep the skin naturally hydrated, so finding the right eye cream can help ward off numerous complexion concerns.
For Puffiness: Under-eye puffiness comes from fluid buildup that swells in the tissues around your eyes. This can come from allergies and sinuses, but it can also be a result of sleep deprivation, diet, alcohol, and just plain old aging. Look for ingredients like caffeine or cooling cucumber, which can help reduce swelling.
For Dark Circles: Discolouration around the eyes can be a result of various factors, including heredity, stress, smoking, sun exposure, pigmentation, and shadows from the hollowing out of your eyes. Things like vitamin C and K, kojic acid, and licorice can help combat skin discolouration, while ingredients like peptides can help plump up the skin to get rid of any shadows. You should also look for light-reflecting ingredients to give you an instant brightening effect.
For Fine Lines: Thinner skin mixed with constant muscle action for winking, blinking, and even smiling can lead your eyes to show signs of aging faster than the rest of your face. Make sure you look for collagen-building ingredients such as retinol to help boost thinning skin and smooth out fine lines.
Tips and Tricks:
Try storing your eye cream in the refrigerator. The extra shot of coolness will soothe tired eyes and help with puffiness.
Using eye cream under your makeup can help concealer apply more smoothly and prevent it from building up in fine lines.
Since the eye area is so sensitive, the best eye creams will be fragrance-free.
If your eye concerns are allergy-related, then try an over-the-counter antihistamine.