Allegra Versace and Anna Wintour at 2009 Spring/Summer Versace Menswear show in Milan. Trend: dark lip colour for spring/summer
Trend Alert: Va Va Vamp Lips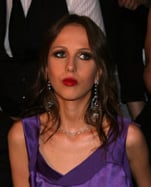 Channel your inner vamp this season with dark, stained lips as seen at the shows – Rodarte, Zac Posen and Derek Lam all sent out girls working the 40s screen siren look, while YSL went one step further with dark, gothic black lips of the kind that Morticia Addams would be proud of.
This bold, striking looks adds an edge to summer's romantic and floral trends, and Allegra Versace is certainly working her fashion heritage, as she sits next to Anna Wintour at the 2009 Spring/Summer Versace Menswear show, in Milan this weekend. Note how she contrasts her berry-hued lip colour to a violet silk dress, for a look that feels fresh and modern.
Try Viridiana lipstick, (£17), by Nars and remember to use a brush for a defined appearance. I like the Famous by Sue Moxley lip brush, (£6). Paint on colour gradually, building up to a more intense shade. Remember to apply balm first though, as dark colour on lips only accentuates any dryness.