Andrea Fulerton Shares Tips For Summer Feet
Nail Guru Andrea Fulerton Shares Tips for Summer Feet!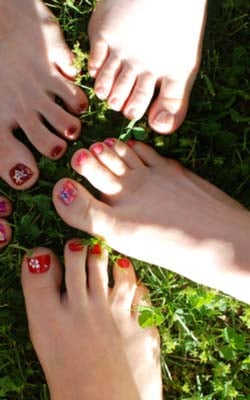 Spring is here and already I'm busting to break out my sandals! It's even more exciting this years because there are so many great nail shades launching.
Like most people after a Winter of socks and shoes, my feet are looking pretty neglected. They're nowhere near ready for full exposure. Luckily, I met one person who knows a thing or two about sorting them out.
Nail guru Andrea Fulerton is legendary in the nail business. She's won British Nail Professional of the Year twice now, and counts Naomi Campbell and Daisy Lowe among her fans. I caught up with her this week to find out the best tips for creating the perfect at-home pedicure.
To find out Andrea's top tips, just read more.
Five-Minute Pedicure: The easiest and fastest way to push back your cuticles is straight out of the bath or shower with a damp patch of the towel. Use circle movements then run a natural nail file over the edges to neaten nails. Pay attention not to go too deep down the sides as it can cause in growing nails!
15-Minute Pedicure: Add to the above, by using a buffer on the nails to create a glossy high shine (never do this more than once a week as it will weaken the nails) or use a thin coat of nail strengthener. Apply as thin as possible to enable the varnish to dry in the fastest possible time.
30-Minute Pedicure: Start fresh.
Add Ciate cuticle remover around the nails. File in one direction leaving a millimeter or two of length.
Use a body scrub leaving it on the feet an extra 10 minutes to let the oils soak in like a mask.
Wrap them in a towel and push back cuticles with a cutilcle stick. File your feet. (Always be careful not to over file the feet as its easy too when they are soft and damp. The skin is there for a reason!)
Use a three-way buffer to prepare nail surface for a base coat (imperative if you are busting out the brights this summertime).
Separate toes then apply the base coat and polish in two thin even coats and top coat. Make every coat thin to avoid future peeling.
Shop for Pedicure must-haves by clicking through here.
Photo Courtesy of Andrea Fulerton