Angelina Jolie Gets Another Tattoo
Do You Think All Tattoos Need to Have a Deep Meaning?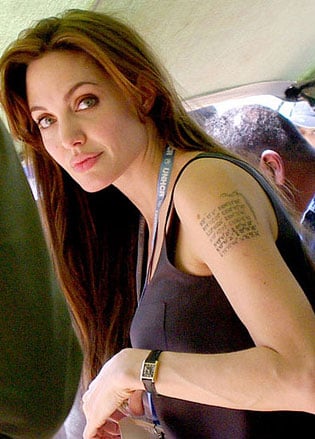 Rumours about Angelina Jolie's seventh line in her tattoo have been floating around. Some speculate that she and Brad Pitt are adopting again, or that it symbolizes Brad's birthplace as a sign of their commitment, but it's definitely hard to know the truth.
Some people feel that because tattoos are so permanent, they need to have deep, symbolic meaning. Others say it is just an expression of creativity and emotion and can be anything from a ladybug to a flower. I don't have any tattoos, so it's hard to pass judgment, but I feel like it might be smart to ink your body with something that you feel strongly about at the very least. What do you think?