Antonio Berardi Beauty at London Fashion Week, Beauty Trends
Backstage Beauty: Floaty Hair and Makeup at Antonio Berardi
Getting a behind the scenes peek at Antonio Berardi was a monumental moment for me. Not only did I get to meet the fabulous Malcolm Edwards, head stylist for John Frieda hair products, but the famous Gucci Westman (who is now working with Revlon), was standing right in front of me working her makeup magic! The inspiration for the clothing came from fencing, with a soft and floaty yet slightly structured style that also trickled down to the beauty looks.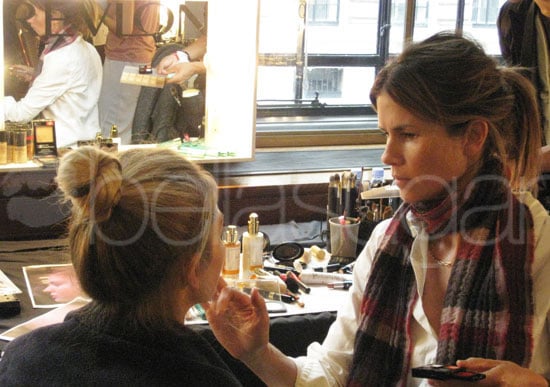 Makeup was angelic, with lots of pale greys and peaches with a sheer, glossy eye and dewy face. Gucci used Dr. Haushka Normalizing Day Oil on the face and lips, and her amazing new "multi-use palette" that will be available as a free gift with purchase on Boots.com as of 20th October when you spend £20 or more. Hair had more of a 70s Penthouse feel with a semi-unkempt looking topknot.
For step by step instructions on how you can recreate this hairstyle at home, just read more.
Step 1: Backcomb (aka tease) hair and spritz with John Frieda Luxurious Volume Thickening Lotion to make strands a bit thicker and give it some holding power.
Step 2: Next, brush hair and pull it up as though you were going to put it into a ponytail. However, before you secure it, twist the hair and instead of pulling it all of the way through, wrap the ends around the base and make it into a top knot.
Step 3: Secure with an elastic band and plenty of bobby pins. Lastly, pull out wispy pieces in the front of the face and spritz all over with John Frieda Luxurious Volume Thickening Hairspray.