Au Naturel: 8 Beauty Treatments to Get Naked For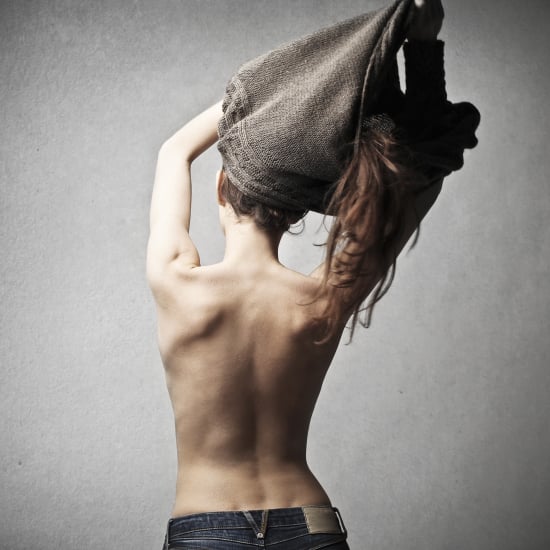 We do a lot in the name of beauty, whether it's waxing, plucking, or sitting under a hair dryer for an hour and a half. But there is one thing that some of us are a little less comfortable doing, and that's stripping down. Modesty tends to get the best of us from time to time, but there are a handful of treatments that are worth letting the girls out for.
Spray tan
Unless you're willing to ruin a perfectly good bra, it's best to check your unmentionables at the door. A lot of spray tan technicians will request that you take your bra off, but your knickers can stay on. Slip into a thong that's a bit past its prime to avoid any garish tan lines.
Massage
Getting all your kinks worked out is best done when there's little between you and your massage therapist. Aside from the uncomfortable chafing that can come from a bra strap being brushed against your skin (ouch!), it can sometimes be difficult for a therapist to, well, rub you the right way. You'll be tucked safely and modestly under a sheet, and a trained professional will know how to tuck and flip your blanket so you're never fully exposed.
Sea salt flotation
This relaxing treatment allows you to float in a bath of warm water that has been completely immersed with Epsom salts, making the water so dense that you actually are weightless on top of it. An experience this relaxing could be enjoyed with a swimming costume, but many spas suggest bathing in the buff to get the full benefits of relaxation. Bonus tip: an hour floatation is said to be as detoxifying as a three-day juice cleanse!
See more treatments to strip down for when you keep reading.
Steam room
A nice, long steam is a great way to detox your skin and body. It's typical to enter with a towel and nothing else, but the terry cloth can make the heat sometimes unbearable once you're inside. If you're comfortable with completely disrobing, it can make the experience that much more cosy.
Body scrub
One of the most luxurious treatments you can get at the spa is a scrub, especially in the Summer. Not only does it slough off your dead skin, it can improve circulation and leave you feeling totally blissful. But since it tends to be wet and messy, it's almost always required that you peel off your underpinnings . . . yes, your panties, too.
Body wrap
This usually follows a scrub and almost always entails you getting slathered in some deliciously moisturising ingredients, being wrapped up in towels and some type of plastic wrap, and sitting there for a period of time. Have you ever sat in wet clothes for a few minutes? Not the most comfortable thing in the world. In order to get the most out of this treatment, it's best to be completely nude.
Bikini wax
There isn't much to say about this one, considering the area in question is covered by your skivvies. Luckily, you only need to disrobe from the waist down in order for things to go smoothly (pun intended).
Dermatological scan
Arguably the most important treatment on this list, a body scan is the easiest way to detect melanoma. But in order to see everything, you've got to show everything. Most doctors will allow you to leave your underwear on, and you'll be given a robe to slink into, so don't expect to be sitting in your exam room in your birthday suit.