Autumn Fall Winter 2008 Beauty Catwalk Runway Trend Bright False Eyelashes Eyelure like Princess Eugenie and Sophie Ellis-Bextor
New Product Alert: Batting for England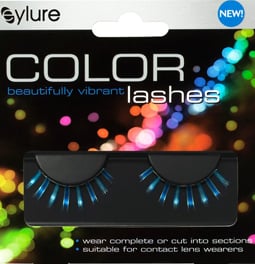 This summer's hottest makeup trend was undoubtedly the Bright Lights, Bold Colour look which eventually saw Sophie Ellis-Bextor wowing the London club scene in rainbow false lashes and Princess Eugenie dressing as Barbie in neon pink fake eyelashes. It seems that falsies are no longer just for drag queens or fashion shoots, especially when they come in carnival colours.
Right on cue Eyelure have just launched a new line of false lashes in striking jewel colours. Expect emerald green, deep purple and electric blue. The false eyelashes are very reasonably priced (£5.95) and will be on sale in Boots from this month.
These eyelashes are feather-light so you won't get that droopy-eyed look I've experience before. With the weight of all that plastic in some fake eyelashes you can end up feeling more like Disney's aptly named Droopy Dog than the long-lashed Princess Jasmine. The Eyelure lashes come on clear strips so you can apply them straight out the packet, or alternatively cut and apply individually for a precise effect.
Apparently the colours were inspired by colour mood therapy, although I think it's unlikely you'd feel calmer just by wearing bright green eyelashes. Still, it's a fun look and could definitely make eyelash fluttering and flirting a little more colourful. Think kooky club queen and then flutter away. Remember, you're batting for your country.