Autumn Fall Winter 2008 Beauty Catwalk Runway Trends Soft Goth at Lanvin, Gucci, Balenciaga. Goth and Gothic Make-up Glossary
Beauty Glossary: Goth Beauty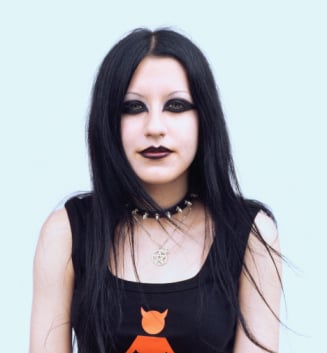 The word Goth, which comes from gothic, is typically used to refer to a youth subculture, which started in the post-punk era of the late 70s and early 80s. Pale skin, piercings, coal-back hair and dramatic makeup are all trademarks of the goth look, for girls, as well as boys.
Achieving a Goth beauty look is all about attitude, as oppose to actual rules. Although, as with all looks that involve a lot of makeup, it can be very high-maintenance.
Typically, the skin should be ghostly-pale to contrast with the hair, which is dyed jet black, and often worn super-straight. Eyes are heavily lined in black eyeliner, and lipstick is ultra dark, like deep purple or a va va vamp red. Nails should be black or deep purple. This look is all about the contrast between light and dark, and the drama of standing out from more mainstream beauty ideals.
Recently, and somewhat ironically, perhaps, Goth-inspired makeup is set to be a huge trend, for Autumn/Winter 2008. Dubbed 'Soft Goth' it is inspired by the opulence and theatricality of dark, vampish makeup.
Balenciaga, Lanvin, Gucci and Viktor & Rolf, all sent out girls with smudgy, kohl-lined eyes and dark, blood red-black lips. Oh my goth!