Autumn Fall Winter 2008 beauty Nail Varnish Polish Trend Alternating Nail Colours. Photo of Jodie Kidd and Christina Milian
Trend Alert: Alternative Nails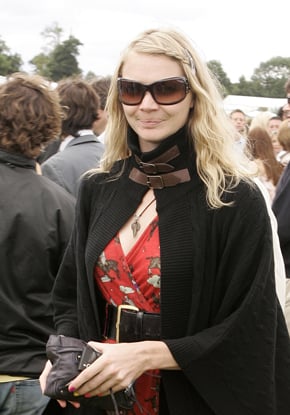 First it was chipped nail polish, then the dark black shades of Goth Glam, and now alternate shades of nail varnish on fingernails is being tipped (ahem, excuse the pun) to be the latest trend.
Model Jodie Kidd and pop star Christina Milian have both been spotted mixing it up, lately. Christina has been contrasting very dark and pale colours together as well as different shades of brights.
Meanwhile Jodie has been photographed with four different neon shades on her nails, for a bright lights, bold colour effect.
I'm not sure if this is going to catch on outside of Fashion Week and possibly Shoreditch, but with the latest autumn/winter beauty trends mixing the punk with the polished, it could be fun to literally try and combine trends. Just read more for how to nail the trend.
My advice is to just stick to two shades and make sure your nails are well manicured, as any chips will just make this look too teenage.
Try tonal colours such as Paul & Joe's dark metallic shade, 20, (£9), with Chanel's Le Vernis in Kaleidoscope, (£14.50), for a modern take on metallic nails.
Alternatively, make like Christina and clash pale and dark. I like Essie Mistique Pink with Butter London polish, (£10), in Branwen's feather; a gorgeously glossy purple-ish black.