Autumn Fall Winter Beauty Fashion Trends 90's Nineties Revival: Agyness Deyn, Victoria Beckham Bob, Crimped Hair, Luella Goth
Trend Alert: 90's Beauty is Back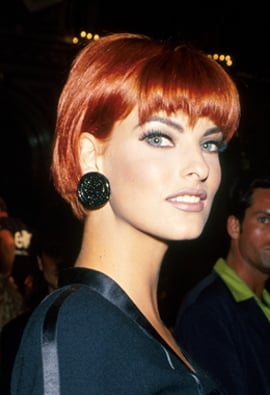 While we're basking in the tongue-in-cheek quirkiness of the 80's revival, (think scrunchies and big hair) the 90's renaissance is creeping up on us slowly but surely. Take The Wackness for example, or the recent comeback of 90's supermodels Linda Evangelista (the new face of Prada) and Claudia Schiffer who is fronting the Chanel campaign this season.
The Soft Goth look, which is essentially an 80's style, was revived in the 90's with bands like the Nine Inch Nails. Meanwhile long, wavy grunge hair, dubbed polished dreadlocks this summer, was a 90's staple.
I remember trying to make my hair look extra messy, much to the chagrin of Ma Bella who would try and flatten it down with hairspray. Even the 90's undercut is currently enjoying a revisit, thanks to model and girl about town, Alice Dellal.
Other hot 90's beauty trends include crimped hair. The sight of the models at Luella stomping down the catwalk in Doc Marten-esque boots, with teenage goth makeup and crimped pigtails took me right back to Sixth Form where a surly attitude, nose piercing and kohl-rimmed eyes were the hallmarks of status.
For more 90's trends that are hot now, read more
Alternating nail colours, a trend model Jodie Kidd has been snapped sporting, was also a 90's staple in the classroom. In addition the return of the bob – that 90's good girl hairstyle, as currently seen on Victoria Beckham, Katie Holmes and the longer version on Eva Mendes, seems to be just the first step towards the layered, grown out choppy Rachel cut; named after Jennifer Aniston's character Rachel in Friends, and undeniably the most copied hairstyle of the decade.
The Guardian cites 1994 as the key year for the pre-Rachel bob, following the release of Pulp Fiction, where Uma Thurman shows off a jet black version of the style. Perhaps the severe bob, which even Agyness's cut seems to be morphing into, plus skinny cigarette pants and an oversize white mens shirt is going to be the look of the season. Retro beauty here we come.