Autumn Winter Beauty Catwalk Trend: Bold Brows like Agyness Deyn. Launch of Bobbi Brown Brow Kit
New Product Alert: Bobbi Brown's Brow Kit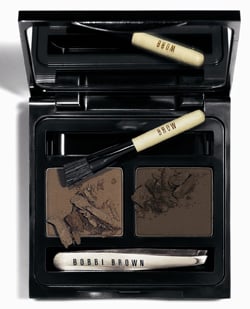 This week sees the launch of the ultimate go-to beauty product for perfectly shaped brows. This season strong eyebrows are all the rage and if you want to get Agyness Deyn's style then just a bit of tweezering won't cut it. Cue the launch of Bobbi Brown's Brow Kit Compact (£25).
Available in two colours, the compact is perfect to achieve this season's well groomed brow — on the go! For fair eyebrows that would look overdone with a dark brow pencil, there is the Wheat & Blonde combination. It offers subtle enhancement for fair haired girls for an on-trend effect. Meanwhile for brunettes, the cutely named Sable & Mahogany duo is ideal. It adds definition and makes your features stand out. Strangely, there is something about defining your brows that makes your eyes look as wide as a Disney heroine.
The Bobbi Brown Brow Kit also comes complete with a mini brow brush for accurate definition, mini tweezers to pluck any strays and a compact mirror for on-the-go brow beauty. As bold brows are the mainstay of next season's beauty looks, as well as this season's glam goth style, it's definitely money well spent. Now there's a whole new meaning to the term high brow.