Autumn Winter Catwalk Trend Headscarves, as at Dolce & Gabbana, Paul Smith and Jean Paul Gaultier
Trend Alert: Headscarves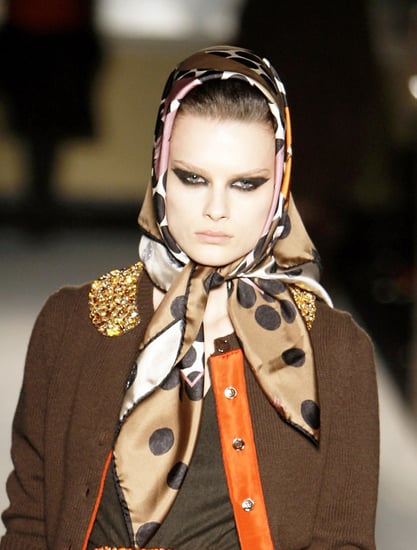 For Autumn/Winter, Dolce & Gabbana, Paul Smith and Jean Paul Gaultier all showed beautiful models wearing – I kid you not - headscarves. Yes, it seems that the hitherto frumpy style, beloved of Hilda Ogden and the Queen, is back.
As part of the new season's obsession with traditionally British heritage looks – such as tweed, tartan and Country House chic – the bright, print silk headscarf is back on our radar.
Take celebrities, like Amy Winehouse, rocking this retro style, and the general love for all things vintage – and it's no surprise the headscarf is this season's hottest hair look. For why, just read more
"I do think we will be seeing a fair amount of headscarves around over the next few months," Gaia Geddes, executive fashion editor of Harper's Bazaar, tells the Telegraph "But the fashion may be better suited to young girls, who will be able to pull it off with the right tongue-in-cheek manner."
Never forget the catwalk-to-closet rule – don't wear all the trends, all at once. So team your headscarf with a simple, plain outfit. For an irreverent look, pair with summer's coral lipstick and bright nails. Or take inspiration from Audrey Hepburn and Grace Kelly, and wear with classic red lips, a plain cotton dress and a dose of screen siren attitude.