Autumn Winter and Spring Summer 2008 Catwalk Runway Hair Beauty Trend Fishtail Plaits as at Chloe, Giles, and Prada
Hair How-To: Fishtail Plaits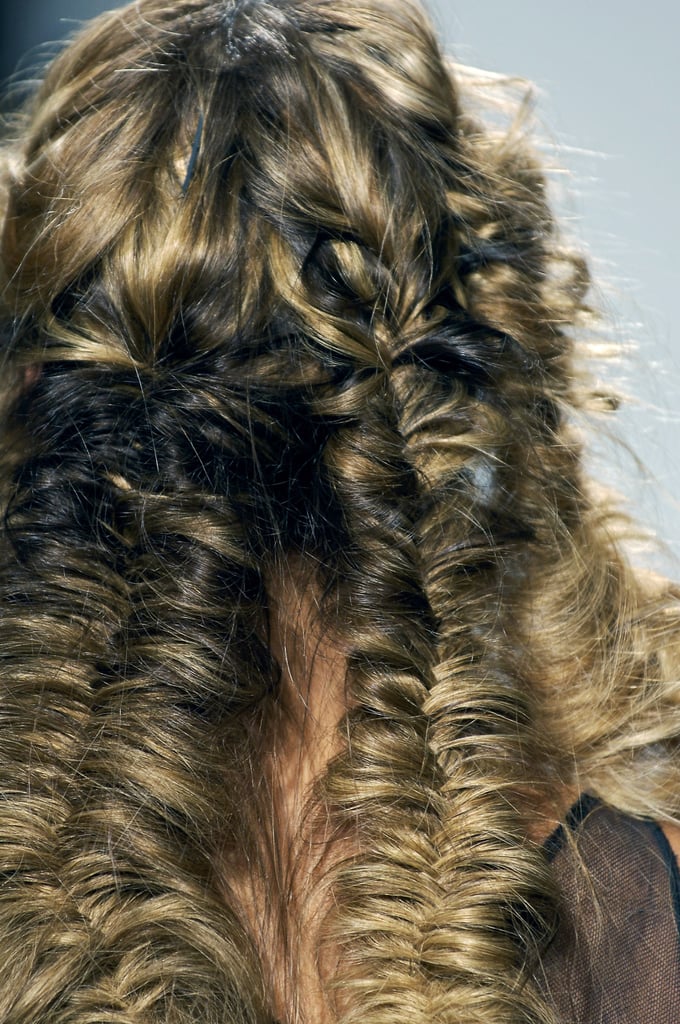 Plaits have certainly been weaving their way down the catwalk this season. From the pirate plaits at Jean Paul Gaultier, to a more pulled-out messy style as seen at Prada this summer and at Giles' Autumn Winter show. The trend shows no signs of unraveling — sorry, I couldn't resist!
Most of you, are really liking this unstructured look. I have to admit that it's a great style if you want to disguise the fact that your hair may be slightly on the dirty side. Fishtail plaits – with plenty of texture – make an easy transition from catwalk to real life, plus they work well on layered hair, which can look too messy in a more traditional braid. For how to re-create this style at home, just read more.
First prepare the hair, with Bumble & Bumble Prep, (£12.50).
Divide the hair into roughly five sections. Take one of the sections, and divide it into two.
Take a strand from underneath each half, and loop it outwards and over the top, to the centre between the two halves.
Start plaiting, it should feel like you're almost plaiting from underneath your hair.
Leave a few strands of hair outside the plaits, these should be tucked-in or added later for a textural effect.
Flyaway pieces should be encouraged, work quickly and don't be too neat.
Repeat on all sections of the hair. For the tricky back-of-the-head section, you may need to ask for help from another pair of hands!