Ayurvedic Massage Combats Adult Acne, Makes You Look Younger and Reduces Signs of Stress on Your Skin
Beauty Glossary: Ayurvedic Massage
Ayurvedic massage is an ancient Indian method that combines deep-tissue massage with energy techniques, reflexology and meditation. It is designed to help restore a sense of serenity and balance to the mind, body and soul. Sometimes herbal supplements are prescribed to boost the body's immune system and help create feelings of wellbeing.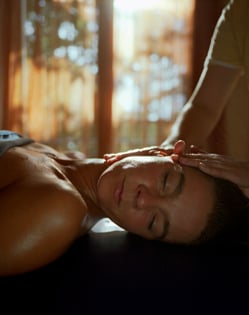 Marc Zollifer who is Aveda's global spa educator told InStyle magazine that Ayurvedic massage helps people "zone in" to their body's and skin's needs. It's all about taking control of your own health and looking at skin issues or tension in the body from a holistic perspective. He says,
"Not only will the massage leave you relaxed, but the techniques balance the endocrine system, boost circulation and cause an overall reduction of muscle tension in the spine."
For more about how Ayurvedic massages can treat skin issues and for my choice of treatments, read more.
Yesterday I was talking to a fellow beauty editor about how back, neck and shoulder tension can cause a lack of blood circulation to the face. This means that poor posture can be an underlying cause of skin issues, like adult acne. In addition, Ayurvedic massage is excellent for helping neck or back problems which are often cause by sitting in front of a computer all day. Combine this with stress and not enough fresh air, and it's no wonder that our skin is playing up.
Expect a good Ayurvedic massage to leave you with clearer skin, a glow to your complexion and more vitality. A word of warning though, initially you may feel tired and your skin may break out as the toxins are released. I'd recommend the Chakra Balancing Massage (£50) from Aveda or an Abhyana Massage (£60) from Tri-Dosha.