Backstage Pass To LFW Spring 2010: Ones To Watch
What makes the Ones To Watch so show special is that different blossoming designers come together (it's much more economical) to showcase their latest creations. On Monday evening, Ada Zanditon, Dean Quin, Hermione de Paula and Marko Mitanowski brought down the house in four sections. The challenge for makeup artist Rachel Wood was to "come up with a neutral look that could be easily added to and changed for each designer." She used makeup by Benefit Cosmetics to create a glowy, ultrapale base and lots of mascara for a dramatic eye.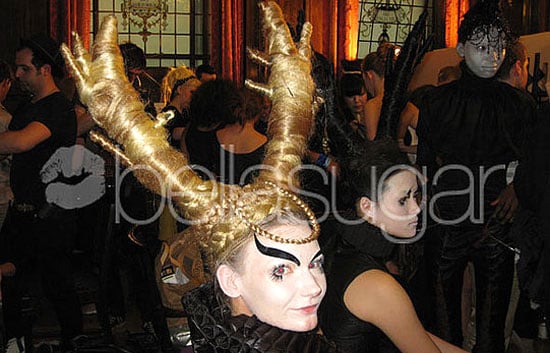 Hair was a totally different bag of beans. I've chosen to hone in on the Marko Mitanowski show in particular because of its theatrical and uniqueness. Tim Furssedonn, the mane man (hee hee) behind this look for Toni & Guy was inspired by deer and unicorn to create antlers on each of the models. Lots of prep work was required beforehand to achieve this hair and it can be considered both an arts and crafts and beauty project to achieve this look — how fun!
To find out how you can re-create this amazing antler hair at home on your own, read more.
STEP 1: Apply mousse all over the hair to build texture. Tim used label. m Volume Mousse. Once it's distributed, blow dry hair and backcomb using label. m Hairspray.
STEP 2: Divide hair into two triangle sections to create a centre part. Then attach the antlers with an Alice band and spread the extensions around the antlers. Note, the antlers have been crafted prior to the show with paper mache, padding and wire.
STEP 3: Because (in step 2) hair was back-combed to help build volume, now you can use that pouffiness to mask where the pieces are attached.
STEP 4: Lastly, attach the separate and small plaits in the front of the hair and secure with bobby pins. When you're finished, mist the entire head with label. m Hairspray.