Backstage Photos Catwalk Models at Emma Bell London Fashion Week Show Spring 2009. Cartoon Glitter Makeup and Big Hair
Hello Kitty Club Kids at Emma Bell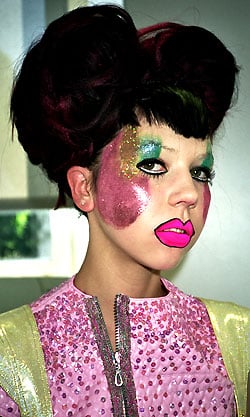 On Friday, Emma Bell showed her 2009 Spring collection which was inspired by cartoons. The clothing was designed in exaggerated proportions in bright neon colours with hints of sequins for an extremist, fantasy club-land feel.
The models wore body paint in addition to coloured tights and retro, 1940's styled hair. The hair was created by Tim Furssedonn for Toni and Guy. He collaborated with Charlie La Mindu to concoct over-sized hair pieces made to brief. Each model wore a custom-made head piece with shapes ranging from twisty-rollergirl pigtails to egg-shaped blue do's to a popcorn-box headdress. Braids were added in for texture and the hair was dyed in shades of purples and reds for a gothic-glam effect. Tim said "We wanted the hair to look fake. It should appear extreme."
Makeup artist Rachel Wood used Benefit products to create a "Hello Kitty and Barbie go clubbing" look. She told her team to "pretend they were at pre-school" when applying glitter to the models' faces.
For Rachel's expert tips for making this catwalk look work in real life, read more.
"Since there was a playful food theme going on" said Rachel, "I wanted to translate this into juicy, fruit-coloured lips". On the catwalk lips were accentuated, but in real life Rachel recommends using Benetint Lip Balm, (£11.60), over a peachy lipstick for a fresh look.
On the runway, Rachel applied fake lashes coated with Benefit Badgal Mascara, (£14.50) and as a finishing touch, she suggests lining eyes with a black kohl liner, such as Badgal eye pencil, (£12.50).
Glitter is an easy way to transition from daytime to nighttime. Rachel suggests using eyelash glue on your eyelids and then applying loose glitter for a head-turning effect.
Photos courtesy of Herod MgHugh and Thom Will for Emma Bell