The Balm Down Boy
Coming Soon: Down Boy from The Balm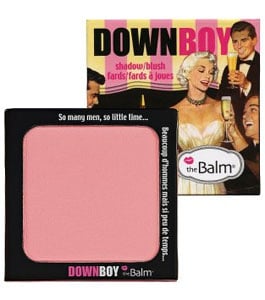 TheBalm strikes again with another fabulous, two-in-one product! New to America and due here in the UK next month is Down Boy, a pink powder blusher with a hint of shimmer that can also double as an eye shadow.
It's the perfect pink to match most skin tones as it's not too bright or too light. The powder formula, blends extremely well, meaning that it won't cake or collect in your pores or your teensy eye and cheek wrinkles as you layer it on. Plus, it doesn't contain parabens, so it's great for allergic or reactive skin.
Unlike their other blusher Hot Mama, which has an orangey-peachy tint to it, this is a great all year round colour as it adds a glowy warm pick me up to pasty, pale skin. I like to wear it during the day on just the apples of my cheeks and on my eyelids with a touch of mascara. In the evening, it looks amazing paired with any deep eye or lip combo. Does Down Boy seem like the kind of product that could tickle your fancy?