Balmain Launches Hair Care!
If you're into designer clothing by Balmain, then this is sure to make your peacock feathers shake with excitement! The French fashion house has launched two hair care lines called Système Volume, which contain seven products that work to create 10 percent more volume in hair. The tag line for the ads are "haute couture for hair" — don't you just love it! I know that I can't wait to check this out, and I'm sure its fashion fans such as Kate Moss, Gwyneth Paltrow, Kate Hudson, and Victoria Beckham can't either.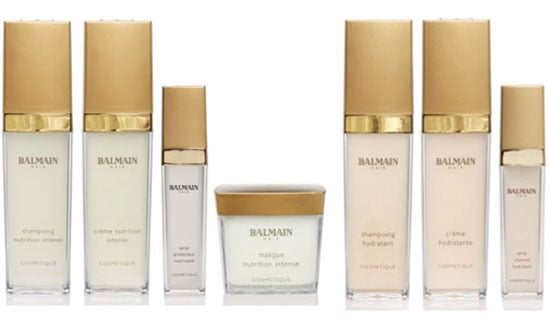 The products in the first range called Nutrition Intense are designed for normal hair. They include a shampoo, conditioner, masque, and protective styling spray priced between £29-£37. From the description, they smell absolutely amazing with notes of ivy, mandarin, violet, rose, orchid, blackberry musk, freesia and wood. The products in the Hydrant collection include a shampoo, ultralight conditioner, and hydration spray ranging from £29-£39. These are geared more toward fine hair and contain lotus, freesia, melon, cedar, musk , amber, peony, lily, and carnation intended to leave hair feeling soft and looking shiny without weighing it down.
All of the products are gentle, hypoallergenic, safe for extensions and help to strengthen hair that has suffered damages from the sun and heat styling. Man, talk about pampering yourself, designer hair products could become the next rage! Are you interested in trying Balmain hair care products?