Bar Refaeli Makeup, Bar Refaeli 2009 MTV Europe Music Awards
How-To: Get Bar Refaeli's Sexy MTV EMA's Makeup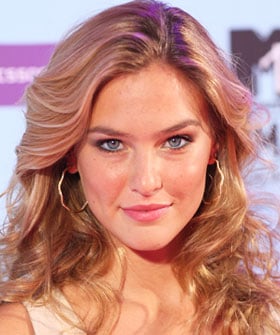 I asked, and you voted that Bar Refaeli was last night's red carpet beauty queen.
Personally, I was kvelling over her wavy hair, but when I looked a little closer, I noticed her awesome shimmering blue- green eyeliner that was enhanced with a hint of gold in the inner v of her eyes.
Paired with a creamy pink pout and tanned, flushed cheeks, Bar's makeup was aces. Her face was polished, young and fresh looking and that hint of metallic eyeliner gave her a current edge.
Shop Bar's MTV EMAs beauty look below!
Achieving her look is fairly straightforward, and with the help of a little bronzer and the right brushes, I know that all of you beauty junkies can handle this one. However, for details on how to create that perfect finishing touch on her eyes, I'll lend a hand with a few helpful hints. To find out what they are, just read more.
Step 1: Begin by filling in your brows. Then curl your lashes and apply a pale pink shadow all over your lid and blending a matte brown, grey or plum shade in the crease.
Step 2: Next, apply black powder liner just above your lash line on the top and below your lash line on the bottom. Once you are done, dab a smidgen of gold shimmery shadow to the inner corners of your eyes.
Step 3: Finish by lining the inner rims of your eyes with a blue-green coloured metallic liner. That wasn't so difficult, was it?