Barbara Daly at Tesco Makeup Glow-Up Highlighter For Catwalk Glow. Credit Crunch Beauty Advice
Product Review: Barbara Daly Glow-Up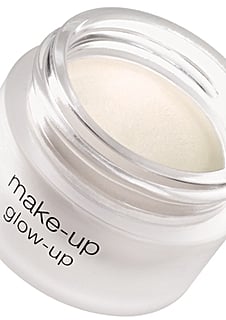 It's rare to find a product that is inexpensive and yet still tops the essentials list of professional makeup artists. Vaseline is one such item, and now Barbara Daly's Glow Up (£6) is set to be another. Whether you're cutting back on your beauty budget, or you're looking for better value on your cosmetics, this is the latest must-have product that won't break the bank.
Unlike many budget brands, the Barbara Daly at Tesco range comes in sleek packaging that will still give your bathroom style kudos. Think simple white and clear packaging plus glass bottles with simple black lids and a pared-down aesthetic. We all know it's what's inside that counts, but personally I can't bare to look at ugly bottles and pots on my dressing table unless they house a miracle cure for wrinkles!
For how to apply Glow-Up for maximum effect simply read more.
Glow-Up is a multi-reflective highlighter in the form of a light-weight mousse. It's super creamy to the touch and is best applied with fingertips, although you can use a makeup sponge if you prefer. It literally glides on the skin, providing a luminous glow and is ideal for wearing under your foundation for a subtle healthy effect. You can also use it as a highlighter to add a touch of iridescence to cheekbones, decollete and shoulders. I added just a touch below my brows too and on the inner corners of my eyes for a wide-awake effect.
I was extremely impressed by the expensive-feeling consistency of Glow-Up, as well as by the shimmery results. So many cheap highlighters use harsh gold or overly shiny particles that can end up looking trashy. Glow-Up managed to add some star appeal to my makeup, even when I was only wearing it with brown mascara and clear lip gloss. It's no wonder it's a backstage staple at the shows, darling I wouldn't go anywhere near a catwalk without it!