Basic Skincare Regimen For Men
1 Man Uses Washing-Up Liquid to Wash His Face, so We Created a Basic Skincare Guide
As POPSUGAR editors, we independently select and write about stuff we love and think you'll like too. If you buy a product we have recommended, we may receive affiliate commission, which in turn supports our work.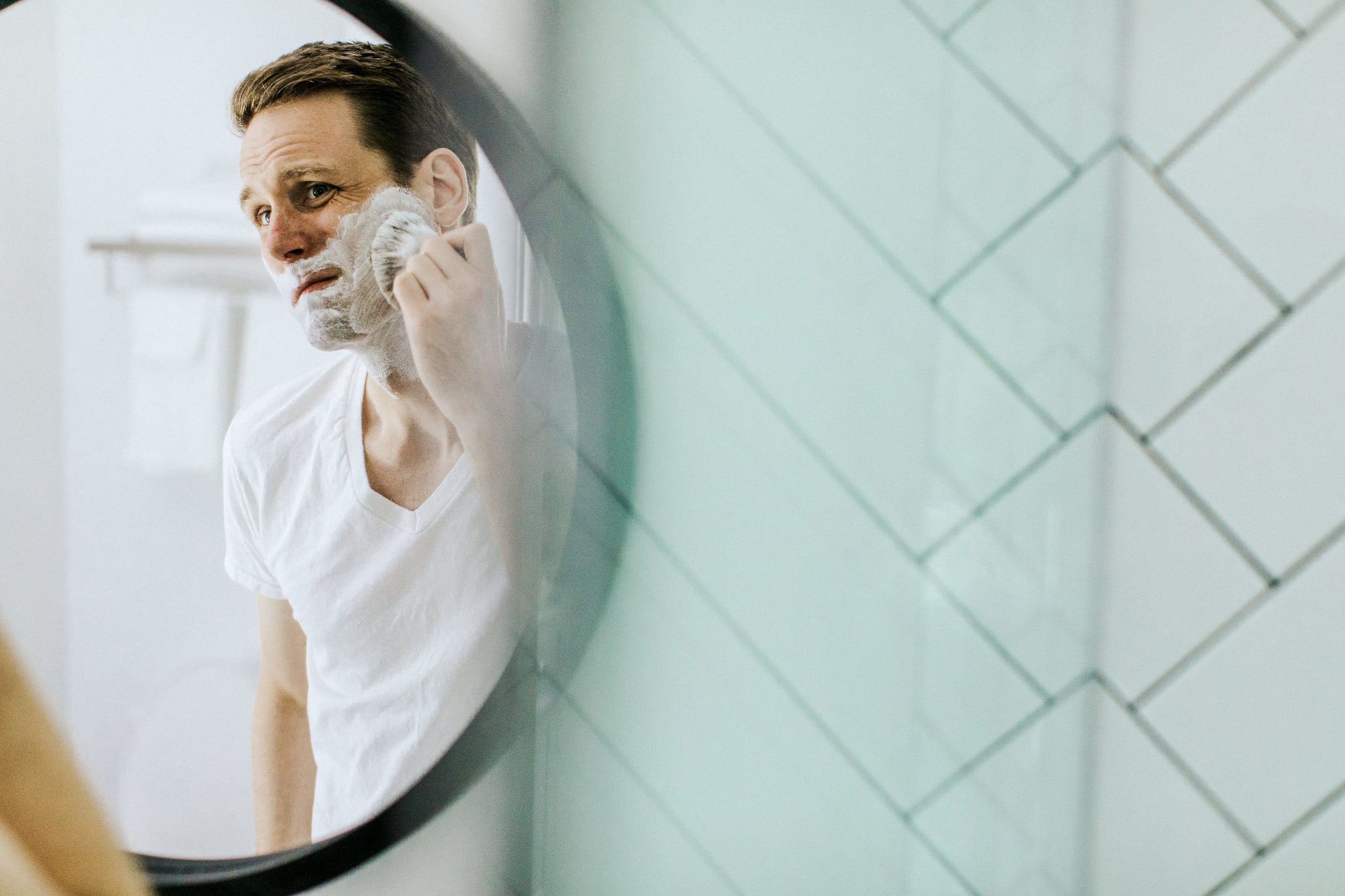 When I read the article "All the Insane Ways Men Do Skin Care," I laughed a lot at both the hilarious write-up and just how these men can be doing such things. Then I wept a little for their skin, because though the answers were brutally honest, they weren't based on any skincare facts. One guy uses either hand wash or washing-up liquid to cleanse his face because he figures if they use it on animals, it's good enough for him. Another guy uses hot water because he thinks this will burn the germs off his face. I can tell you now, this is wrong, so wrong! While not all men took quite such a weird approach to skin care, many don't bother to exfoliate or cleanse because they don't think they need to. Now I've overcome the wild ride that is men's skincare routines, I'm here to offer help on how to start one that'll actually benefit your skin. And no, I'm not going to tell you to spend £100 on serum.
Firstly, it's worth spending the extra few quid on a face wash rather than using the bar of soap you use to wash your feet and . . . other places. Let's be honest, you owe it to your face. Secondly, let's debunk the myth that men don't need moisturiser, because you probably do. And no, it won't make your skin oily.
When shopping for products, those marketed more towards women work just as well for men too, and you'll probably find a cheaper option here than down the "men's skin care" aisle. It also won't smell like the body spray you used when you were 14. Brands like CeraVe, which is launching in the UK in March, Simple (try the Simple Kind To Skin Refreshing Facial Wash Gel (£1.50)), and Garnier (try the Garnier Micellar Gel Wash Combination Skin (£3)) are affordable and reliable.
Moisturiser is where you'll find an overwhelming number of choices. If you're starting from scratch, your best bet is to go with a cream that isn't complicated and just adds hydration to the skin, ideally with an SPF like Nivea Daily Essentials Light Moisturising Day Cream For Normal to Combination Skin SPF 15 (£4). If you're still too stubborn to moisturise, at least use a hydrating body wash like this Nivea In Shower Body Moisturiser Dry (£3).
If you shave, treat yourself to a postshave balm such as Nivea Sensitive Post Shave Balm (£5). If you have a beard, consider a beard oil or balm to keep the hair soft (your partner will benefit too; nobody likes scratchy beard kisses). Bulldog Original Beard Oil (£5.50) won't break the bank.
If you want to really step up your skin care, exfoliating once a week can help improve the overall texture and look of the skin. Nip + Fab Glycolic Fix Extreme Night Pads (£10) are a great and easy-to-use addition.
If your skincare enthusiast friend or significant other is trying to give you a beauty lesson, hear them out. They're only trying to keep you blackhead-free and glowing!