Bath and Beauty Products For a Precious Little Boy
If you've spent any significant time around a toddler boy you may know that bath time is either the best or worst part of the day. Getting into the tub can take some serious coaxing and getting out can be even more of a challenge. Depending on how tough the toddler in your life is, he won't be able to resist these fun and fabulous products.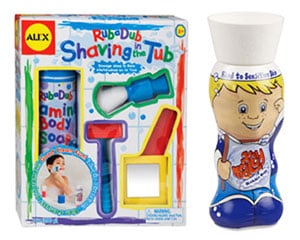 Take this Rub a Dub Shaving Kit by Alex (£9.50) for example. He can squirt out the foam and faux shave just like Dad, granddad or uncle! Also, how could any cutie resist this Sailor Bubble Bath from Matey (£2.09) for tonnes of fruity smelling bath bubbles!
Below are even more treats for a boy toddler. Have fun shopping, it's easy to get carried away!