Beautiful Summer Sun-Kissed Skin All Winter with Spa Paradisa Self Tan, Body Balm and Sugar Scrub. Beauty Product Review
New Product Alert: Spa Paradisa's Winter Sun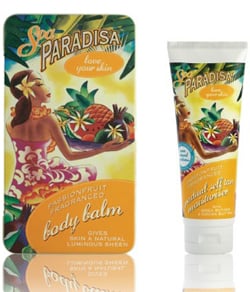 I'm feeling very let down by the weather this month. So much for an Indian summer! If like mine, your skin is also looking reminiscent of our summer – a grey washout – then you'll be happy to hear about Spa Paradisa's latest line of products to bring some sunshine back into your life.
The gorgeously tropical smell will bring back memories of far-flung holiday destinations. I'm also head-over-heels in love with the bright, retro packaging that brings to mind the 1958 feel-good musical South Pacific with palm trees, brightly-clad island girls and sunny optimism. The range is aptly called Love Your Skin, and I couldn't give you better advice than that.
The exfoliating body scrub, (£8), is the ideal pre-fake tan prep as well as leaving your skin touchably smooth. The sweet-smelling gradual self-tan moisturiser, (£7), looks lightly natural for a subtly sun-kissed look. As you all know about my body lotion obsession, it's no surprise that I also adored using the passion fruit body balm, (£10). I admit it is rather sticky, but the thickness of the consistency has an indulgent feel to it that completely belies it's bargain price.
Sunny spells all winter, what more could we ask for?