Beauty and the Beast: The Ugly Face of Prejudice
Beauty and the Beast: The Ugly Face of Prejudice Airs Tonight
As I was catching up on some of the red carpets that I recorded over the weekend, I came across a commercial for Channel 4's latest TV show premiering tonight at 8pm. The programme is called, Beauty and the Beast: The Ugly Face of Prejudice and it compares two people who are unsatisfied with their looks. The catch is that one person is has a disfigurement and the other is beauty obsessed. The idea is that after spending time with someone who has an extreme disfigurement, can the person who is fanatical about their looks realise that beauty is only skin deep?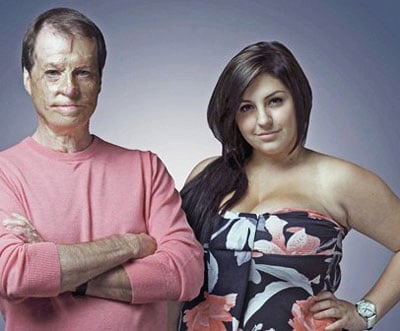 Throughout the series we see a lot of Adam Pearson who has Neurofibromatosis, a genetic disorder that resulted in a facial disfigurement. He delves into the prejudices surrounding beauty in society and even poses in a fashion ad mimicking David Beckham. We also meet Leo, a burn victim and Susan who is disfigured from childhood cancer. They try and shed perspective on Sarah, who claims to have undergone the most cosmetic treatments in all of Britain and Yasmin, a 20 year old who wants liposuction and a breast reduction.
Sadly, Sarah and Yasmin are among the nine out of ten women in the UK who are unhappy with the way they look. I haven't seen the entirety of the show yet, but you can watch a clip from episode 2 here. Will you'll be tuning in tonight?