Beauty Blog Product Review Imedeen Tan Optimizier. Skin Supplement Capsules Protect Skin in Sun. Look Younger
Product Review: Imedeen Tan Optimizer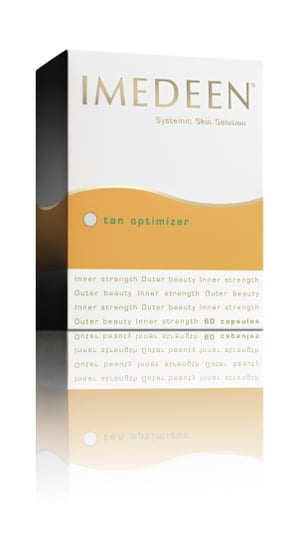 As a self-confessed sunworshipper (it's my only vice, honest) I'm always extra careful to protect my skin, when indulging in my favourite summer activity. As well as a good body block, and an extra high factor facial sunscreen, last year I started taking skin supplements to further try and save my poor, sun-starched skin.
It felt like many of them did more to ease the conscience than the skin itself, but this summer I've been testing Imedeen Tan Optimizer supplements, (£37.50 for 60 capsules), and I'm actually very impressed.
You have to start taking the capsules, once daily, four weeks before going on holiday or exposing your skin to the sun. Then keep taking them during the summer, and for around four weeks after, to maximise your colour. This is a lot of supplements, and it can be expensive, (we're talking more than 50p a capsule) but as with spending more on good quality suncream, if you're going to sunbathe, it really is worth it. For why just read more
Imedeen Tan Optimizer contains the antioxidants vitamins C and E, to support the skin, as well as a tomato extract containing the antioxidant lycopene, which helps to protect against UV-induced skin damage. The champion ingredient is a palm fruit extract that contains natural carotenoids, a plant pigment with tan-boosting and skin-saving effects.
Of course, you could just eat lots of carrots and tomatoes, and maybe take a Carotene supplement instead, but actually it's worth making sure your diet is good, as well as taking the supplements.
It's always hard to measure how effective supplements are, because it's almost impossible to tell if other changes (such as being relaxed while on holiday) have contributed, but my skin tone and texture is definitely looking a lot younger.
I never burn, but my skin took on more of a honey-hued brown glow than the redish brown it sometimes goes, plus I seemed to tan more slowly, but deeply – making for a long-lasting colour.
Along with copious moisturising and twice weekly exfoliating, my tan seems like it might be here to stay (well at least until September, I hope). Plus, the supplements ease my guilt about the whole being-in-the-sun debacle anyway – and as anyone can tell you, guilt never looks pretty.