Beauty Blog Website Glossary: Ginger For Anti-Ageing, Wrinkle Busting, Circulation, and Skin Brightening. DIY At Home Facial
Beauty Glossary: Ginger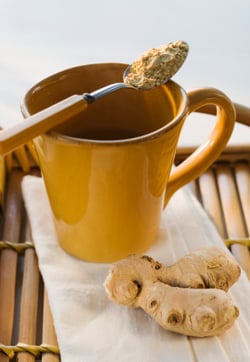 No, I'm not talking about Geri Halliwell's formerly bright-red hair colour, but the well-known spice that originates from China, India, South East Asia, West Africa and the Caribbean. Ginger is often used in beauty products, partly because of it's distinctive spicy yet sweet aroma.
Ginger is generally famed for it's stimulating effects and is frequently a main ingredient in pick-me-up shower gels and body scrubs. Medicinally, ginger is used for helping colic in babies, dyspepsia and diarrhea, whilst it is also thought to lower cholesterol. Ginger is also excellent at treating nausea caused by seasickness and morning sickness. In addition, it is anecdotally said to be fantastic at clearing the head and reducing feelings of sickness when hungover.
Traditionally ginger was also renowned in the beauty world for it's muscle-relaxing properties. Recently it has started to become popular again in anti-ageing creams and is often combined with anti-oxidants and vitamins to create a cocktail of wrinkle-busting goodness. Garnier Ultralift Deep Wrinkle A, (£9.99), is one such product that includes ginger to help relax facial muscles and ward off wrinkles.
Ginger is also great for the skin as it boosts circulation, brightens the complexion and helps to prevent the growth of bacteria on your skin. It's a fantastic ingredient for making at-home scrubs or DIY facials too, as just a little grated ginger is all you need to see the benefits.