Beauty Byte: Chelsea Clinton's Wedding Beauty!
Get Chelsea Clinton's Wedding Beauty Look!
I love a good wedding, and they don't get more high profile than this one! Chelsea Clinton got married to her long-term boyfriend Marc Mezvinsky this weekend in a stunning Vera Wang dress in upstate New York. She looked amazing! Chelsea's wedding has been described as the closest thing to an American royal wedding, with everything from the flowers to her choice of honeymoon spot being hotly investigated beforehand, not least her hair and makeup.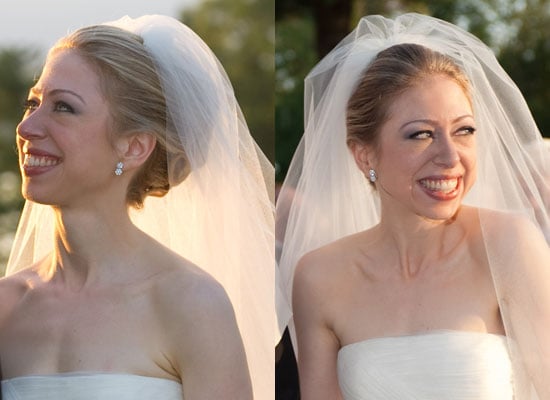 To hear the rest about Chelsea's wedding beauty, including how to get the look just read more.
Well, first things first. I think she really pulled it off. Chelsea worked an elegant smooth chignon slightly teased at the crown to frame her face. It had just the right volume and worked brilliantly with her veil. Her makeup was equally simple. For the event she wore a slightly smokey eye, with peachy hints of blush on the cheeks and a delicate matte pink colour on her lips. (Scroll down for details on how to get the look.)
It's widely known that hair guru Isabelle Goetz was responsible for the updo. Goetz is Washington's go-to hair luminary and has been styling Hilary Clinton's tresses for years, along with John Kerry and Queen Rania of Jordon when they're in town.
Personally, I thought she did a great job on Chelsea. It was elegant and perfectly in keeping with the low-key style the bride is known for.
Get Chelsea's smokey eyes:


Start by applying an eye shadow primer like Benefit Stay Don't Stray (£19.50) on your upper lids and lower lash lines.
Follow by waterlining your eyes with a black waterproof eye pencil.
Then, sweep a shimmery, champagne-colored shadow like Bobby Brown Metalic Eyeshadow (£14.50) onto your entire upper lid and lower lash line.
Using either a small, angled shadow brush or the pointed tip of a shadow applicator, sweep a silvery gray shadow like Ilamasqua in Machine (£11.25) from the inner corner of your irises outward to the ends of your eyes. Wet the applicator (or use an eyeliner brush) and then use the gray shadow to line your lower lashes.
Finish up with a coat of black mascara.
Voila! Did you like Chelsea's wedding hair and makeup?