Beauty Byte: Dree Hemingway Fronts New Ferragamo Fragrance!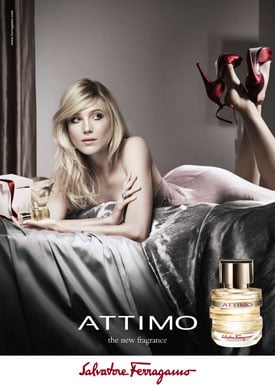 Salvatore Ferragamo has a hot new fragrance and a hot new spokesmodel! The fashion house unveiled its latest scent Attimo on Friday along with front woman Dree Hemingway. Check it out!
Attimo in Italian mean's 'moment' and is aimed at a hip fashion-conscious young female audience (Which makes it-girl Dree the perfect choice.) The scent is set to launch in September and includes notes of nashi pear, lotus flower, frangipani flowers and peonies. A men's version is also said to be on the cards for 2011.
New ads are set to appear in print and television featuring Dree (the great-granddaughter of Ernest Hemingway) shot by photographer guru Craig McDean, wearing the brand's trademark red stilettos opening a gift containing the scent.
I'm excited to smell the fragrance! It sounds beautiful. I also think the campaign shot looks great. It certainly fits with the new sexed-up vibe which has been pervading in every fragrance ad from Tom Ford to Gucci's latest outing Guilty. (Talk about steamy. Ooh lala!)
Are you a fan of Ferragamo fragrances?
Photo courtesy of Salvatore Ferragamo