Beauty Byte: Elle Macpherson's Rhino Horn Controversy
Beauty Byte: Elle Macpherson's Rhino Horn Controversy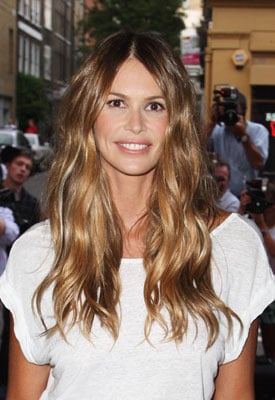 Usually celebs recommend a lotion or potion, or botox, when they talk about their beauty tips. Not Elle Macpherson! The supermodel caused a storm of controversy this week after saying that her top beauty secret was taking Rhino horn tablets.
Elle made the comment in a Twitter interview with The Times and has since prompted criticism from animal rights organisations because the species is endangered.
The interview happened last week and went as follows. To check it out, just read more.






Witter: "You're said to be a great fan of Chinese medicine. What does powdered rhino horn taste like? "
E MacP: "A little bit like crushed bone and fungus in a capsule. Does the job though."
Witter: "How do you know that it works? A lot of people say Chinese medicine is quackery."
E MacP: "Put it this way, works for me."
Elle defended her comments yesterday in a statement:
"I was Twittering with a Times journalist about the taste of herbal medicines and made a flippant comment inferring I had tasted rhino horn. To be clear, I have never knowingly consumed or encouraged consumption of any products derived from endangered species. The idea is abhorrent to me. While I love my herbal and Chinese remedies I would never put my health over the survival of a species. I guess this is one of the pitfalls of 140 character journalism."
It's good that she has clarified this. It just goes to show, Twitter can be a double edged sword! Perhaps she'll stick to mentioning something more conventional next time, like Kylie's favourite Pond's Cold Cream!
Do you have a top beauty secret?