Beauty Byte: Estée Lauder's Online Makeover Tool!
Beauty Byte: Estée Lauder's Online Makeover Tool!
We all want a chance to experiment with makeovers, but sometimes the glare of the beauty hall strip lights are way too public, which is why I was excited to hear about Estée Lauder's new online makeover tool! The site was unveiled yesterday and allows any Estée Lauder fan see how the company's makeup products will look on their face before buying. Check it out!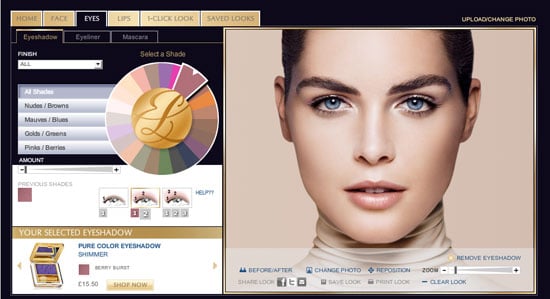 Using the tool is simple: Consumers simply upload their photo to the dedicated site, or select a stock image of Estée Lauder model Hilary Rhoda and are guided through selecting the right blushes, eye shadows and eyeliners. There's also the option to apply 'one click looks' giving faces the same complete makeup style as current advertising campaign. Once looks are complete, there's the option to blog them, email them or simply keep them on file.
This is such fun! iPhone Apps have been introducing similar functions for a while now, but it's great to see a makeup brand getting involved. Now you can select your favourite Tom Pecheux colours from the comfort of your own home. Are you a fan of virtual makeover tools?