Beauty Byte: Europe's Plan To Keep Beauty Sales Soaring
Beauty Byte: Europe's Plan To Keep Beauty Sales Soaring
It's not surprising to hear that beauty sales have been on the decline this year. Afterall, we're facing a credit crunch and the economy is struggling to stay strong and healthy. However, according to WWD, the big guns in beauty (execs) are thinking of ways to keep beauty junkies shopping. Debbie Beaumont Howell, of House of Fraser said,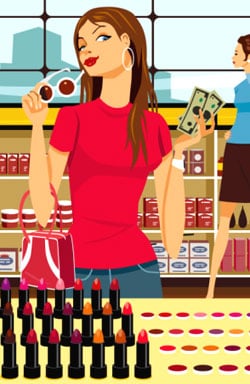 "I think 2009 is going to be very challenging. It's going to be about maintaining market share through service, theater and having a point of difference. We're working with a 2009 calendar that's event — rather than discount — driven."
I'm guessing she means that you can expect to see a big marketing push on Valentine's Day, Easter and Mother's Day. Also, this year, they re-opened their store on Boxing Day to help increase sales which seemed quite effective.
On the opposite end of the spectrum, a spokesperson from Harvey Nichols said that "HK is expecting beauty sales to be consistent". Reps from Harrods, La Rinascente and The Perfume Shop feel that fragrances are going to be their saving grace with teens being the biggest consumers. Have you continued to buy beauty products despite the credit crunch?