Beauty Byte: Jessica Simpson Bares All For Marie Claire
Beauty Byte: Jessica Simpson Bares All for Marie Claire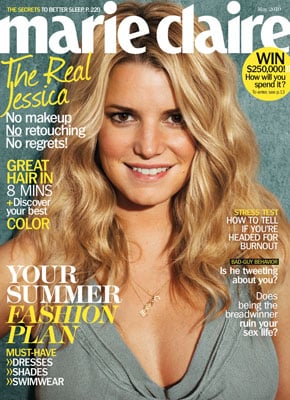 You've got to admire Jessica Simpson's bravery. This month the singer appears on the cover of Marie Claire's US edition this month without a stitch of makeup or airbrushing. The cover image was just released and I managed to get my hands on it. Check it out!
Jessica's been tabloid fodder for a while now, not only for her relationships but also for her changing body weight. More recently, she's hit the headlines for her TV show The Price of Beauty (yet to be aired in the UK) in which she travels the world exploring how different nations perceive beauty and what their wild and wacky treatments are.
In a recent OK! Magazine interview she talks about the show and how it has made her more confident.
"There's always something that I've wanted to fix because there's always somebody who looks better; that's what we always compare ourselves to. So I think the journey really was finding what was beautiful inside of me and knowing that it's unique and rare. And it was a very powerful journey. It has definitely changed my life."
I'm loving this cover as I think she looks fab! Airbrushing is so common now that even the most fresh faced of beauties get the digital treatment, so for her to lay it bare like this is brilliant.
What do you think – do you like Jessica's cover?
Photo courtesy of Marie Claire