Beauty Byte Katie Price Launches Kids Beauty After Controversial Pictures of Daughter Princess Wearing Makeup Posted Online
Beauty Byte: Katie Price to Launch Kids Makeup Line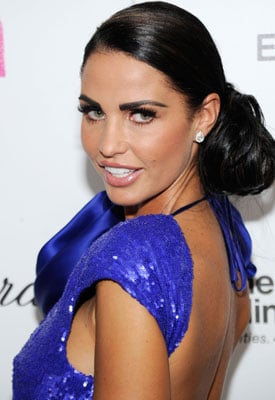 Wow. I'm a big fan of Katie Price's out-there take on things, but this latest move could potentially cause some uproar amongst her fans.
According to reports today, the glamour model has plans for a children's makeup range, which will use her two-year-old daughter Princess as the cover girl.
"Obviously the story would be she nicks my make-up all the time," Katie's quoted as saying in her TV show, adding that the range will include: "Edible lipstick, (and a) little case with wipes to take your make-up off. You can get a nice case for make-up wipe, lipsticks, blushers and mascara and nail varnishes."
Apparently, she is hoping to take advantage of the recent controversial photos featuring Princess wearing makeup which hit the headlines after she posted them on Facebook.
I'm waiting on further details about this, but I'm unsure what to make of it. What do you think? There's no doubt that little girls are curious about makeup, but is a children's makeup line ethical? I can't wait to hear your thought on this one.