Beauty Byte: Lush Prepare to Bare All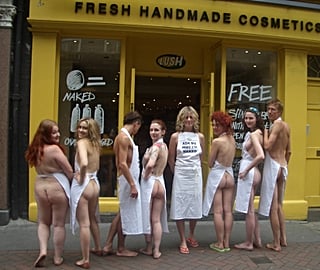 Lush have been ahead of the eco-beauty game for some time. The natural cosmetics store has recently been placing great emphasis on raising awareness about excessive packaging. They already use unusual items to pack out their gift sets (including popcorn!) but they are now reinforcing a warning of its effects on the environment.
To illustrate their point they are employing an eye catching strategy to keep consumers interested by getting some of its staff to only wear aprons! Sean Gifford, the brand's communications manager told WWD, "It's very funny and irreverent and gets people to laugh. Once we get people to laugh they're more receptive to the message."
Gifford has already bared all for the campaign which kicked off in the UK last year and will now be in place across Europe and Australia.