Beauty Byte: Simple Teams With Macmillan Cancer Support!
A simplified easy-peasy skincare regime, and on top of that helping a great cause? Talk about 'win win'! This month Simple skincare has teamed with Macmillan Cancer Support to create three new limited-edition skincare packs in aid of cancer sufferers.
The packs, dubbed The Simple Challenge, cost £10 and go on sale this month exclusively through Simple. £2 of every purchase is going direct to charity. (The aim is to raise £50,000 – so get buying!)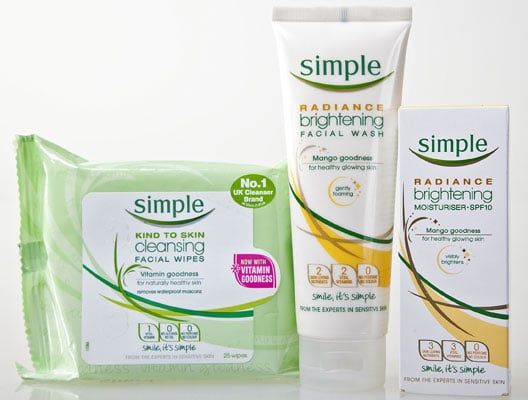 The idea behind the The Simple Challenge, is to make skincare easier. Each of the three variations is dedicated to three different skintypes, and includes three core products. Simple Goodness', comes with facial wipes, a facial wash and a day cream. 'Age Resisting Goodness' includes wipes, a regenerating facial wash and Age Resisting day cream.
Meanwhile, 'Simply Radiant' includes cleansing wipes, a radiance boosting moisturiser and radiance eye cream. Simple, the UK's offical No. 1 facial skincare brand and is known for its skin-friendly products that contain no colours or perfumes (the number one causes of irritation.) I'm a big fan of the brand, and it's great to see that it's giving something back. It helps that the packs are a genuinely brilliant concept, a fantastic one-stop-shop for anyone in search of an easy skincare routine. What could be simpler?
Photo courtesy of Simple