Beauty Byte: Tilda Swinton Talks Fragrance!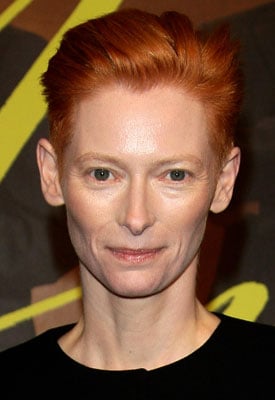 Ever since Tilda Swinton's collaborative fragrance with French perfume house État Libre D'Orange was announced I've been excited.
The new scent, dubbed Like This, didn't let me down either. It's a divine mix of Moroccan neroli, rose, vetiver, heliotrope, musk, mandarin, ginger, and pumpkin.
Last week, Tilda attended the launch in New York at Henry Bendel and spilled a few details on the project. "We made this together. This is not something that I've slapped my name on," she said.
She added,

"It's like a home brew. We are like a lemonade store at the bottom of the drive. Etienne [de Swardt] and Jean-Claude [Magret of Etat Libre d'Orange] asked me if I wanted to make a fragrance, which is not something I ever thought anyone would ask me to do."
It turned out Tilda has never been a fragrance junkie. The only thing she'd ever worn before Like This is Bluebell, a historic scent by London perfumer Penhaligon's.
Like This, she said, was a highly personal project: "I was coming up with something so personal, to make something that really smells like my own home. And placing it in front of this extraordinary perfumer, Mathilde [Bijaoui of Mane]. She literally has made — in that bottle — a smell that makes me feel like I'm at home. And she's never been to my home in the north of Scotland."
I'm such a fan of Tilda. The critically acclaimed actress has also been fronting Pringle of Scotland's clothing campaigns recently. She's fabulous because her style is unique. She's not afraid to crop her hair or wear outrageous gowns and she just wears what she likes.