Beauty Byte: Tom Ford Shares Hair and Makeup Inspiration!
Beauty Byte: Tom Ford Shares Hair and Makeup Inspiration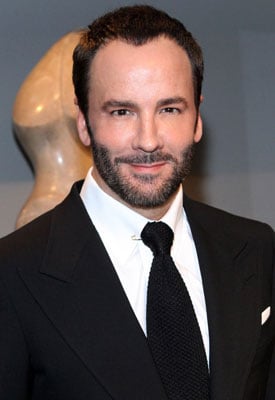 Tom Ford unveiled his much-anticipated women's collection to a handful of press this week in New York and already the clothes are causing palpable excitement in the fashion world!
Not least because the designer has been ultra-cagey about the range, banning outside photographers from attending the show and even cutting celebrities from his front row. (Although Beyonce was on hand to model.)
Tom did stop to do a few interviews though, and most excitingly spilled some beauty details.
It turns out, Tom had worked with makeup luminary Charlotte Tilbury and hair stylist Orlando Pita to create the looks. (Charlotte has been consulting Tom on his own makeup line.)
To find out about his inspiration, just read more.
His movie work was a major inspiration:

"I wanted it to be as if it were a film about each of these women. If you were making a movie about Lisa Eisner, what would she look like? So they were amped-up versions of themselves."
Prior to the show Tom created files on each of the different women modelling with inspiration pictures for how he wanted their hair and makeup. He then consulted his crack team on how to realise them,

"We conferred. I said, "This is how I see this person," and then Charlotte said, "Yes, but her eyes are like this, maybe we should do that." And Orlando would say, "I worked with her last week and she doesn't have enough hair to do that so we can…." And we created those characters."
Exciting! It sounds like Tom's hair and beauty vibe was similar to his fashion creations. He's trying to create something fabulous for everyone.
I'm excited to see what happens next with Tom Ford makeup, especially if Charlotte is involved. The lipsticks are sensational (the red is my handbag staple.)
Are you a fan of Tom Ford beauty?