Beauty Byte: Urban Outfitters Launch Beauty
Beauty Byte: Urban Outfitters Launch First Makeup Range
I'm not sure what started this tidal wave, but I am loving it! High Street fashion chains are going mad for beauty and skincare ranges at the moment.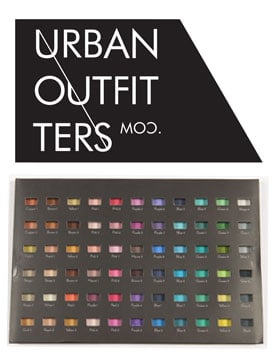 First, H&M launches a bargain organic skincare line, then Topshop announces an affordable fashion makeup collection. Now, Urban Outfitters is joining the fray with the launch of its debut colour makeup range.
The range hasn't been named yet but it includes eye shadows, eye liners, lipsticks and nail varnishes and will go on sale in UK stores next month with prices ranging from £5 to £24.
Details are still scarce, but I did catch a glimpse of a couple of items. The palette pictured left, for example, is brilliant – check out those colours! There are also some fantastic bright nail shades. Stay tuned for more updates.
Image courtesy of Urban Outfitters