Beauty Byte: We Want Anti-Aging, Now!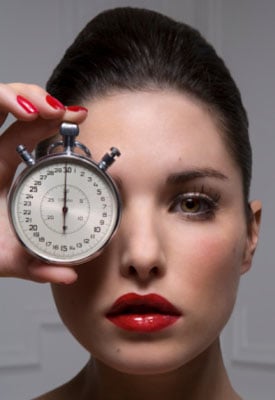 Forget experimenting with a skincare product over a few months. We haven't got the time! These days we're demanding they work instantly.
According to a new report in industry bible Women's Wear Daily, the hottest new wave of skincare products are working harder than ever to deliver dramatic improvements the second we apply them.
The report jokes, "They read like billboard advertisements you might see for some weirdly appealing, futuristic movie about Utopia. Your moisturizer will firm up your skin by spring? Yawn. The new ones will make you look 18 by lunchtime."
New products include Olay Professional Pro-X Intensive Treatment Mask and Skin Tightening Serum, Peter Thomas Roth Instant Un-Wrinkle, Strivectin Instant Moisture Repair Daily Hydrator, Sansai Cellular Performance Hydrachange Cream, Aminogenesis Gone In Sixty Seconds Instant Wrinkle Eraser and Shiseido Bio-Performance Super Corrective Serum.
Price is a factor in the trend; companies have been elevating the price of luxury skincare creams, and with that comes extra demands. The phenomenon is easily explained. These days with busier lifestyles we're more impatient than ever. If we can have a coffee in 30 seconds, why not reduced wrinkles? We already have lunchtime plastic surgery, so there's also extra pressure on non-invasive products to produce similar results.
I haven't tried many of these new creams, but I'd be interested to see if they deliver on their claims. Would you buy a cream that promised overnight transformation?