Beauty Glossary: Magnesium. Miracle Anti-Ageing Skin Ingredient To Fight Wrinkles
Beauty Glossary: Magnesium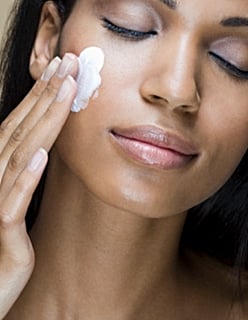 I was recently lucky enough to attend an expert skincare lecture on anti-ageing. Internationally acclaimed dermatologist and skincare pioneer Dr. Zein Obagi talked about ways to help keep our skin looking young and healthy for as long as possible.
One of the ingredients in his new range of ZO Skin Health brand, which will be available from November in Harrods and Selfridges, particularly caught my eye. Magnesium is a wonder ingredient in skincare as it has many boosting properties. Alongside potassium, this mineral is a staple in many anti-ageing creams because of it's replenishing qualities.
According to Dr. Obagi, it is ideal for improving circulation and stimulating the skin. Medically, magnesium is a very important ingredient of the green coloring matter in plants (chlorophyll) and is needed for normal development of the body. Approximately 70 percent of the magnesium in the body is found in the skeletal system. At least half of the magnesium in the body is combined with calcium and phosphorus in the bones. The remainder is in the muscles, red blood cells and the other tissues of the body.
For the benefits of magnesium on your health and your skin, just read more.
Magnesium ensures the strength and firmness of the bones. In addition, it makes the teeth harder and stronger. A regular intake of magnesium counteracts acidity, poor circulation and glandular disorders.
Magnesium is also essential to slow down the ageing process in the skin and is present in hundreds of key biochemical processes in the human body. It also stimulates the skin to ensure that healthy elasticity is maintained and moisture levels remain normal. As well as being an ingredient in skincare, it is essential to ensure you get enough of this mineral in your diet, if you want to stay young and beautiful (not to mention healthy). Magnesium rich foods include brown rice, wheat germ, wheat bran, almonds, and peanuts.