Beauty Trends 2008 Catwalk and Celebrity, Agyness Deyn and Pixie Geldof Makeup Hair, Beauty Crimes Now Cool
Planet Beauty: From Not to Hot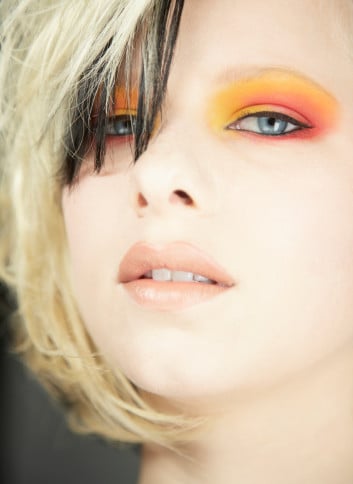 Yesterday, at an outdoor swimming pool, I noticed a pretty, pale girl wearing yellow nail varnish on her toes, and lime green on her fingernails. I'd always thought yellow and lime green makeup was a no-no on pale skin, but she looked great.
This got me thinking about so-called beauty faux pas, or beauty blunders, that are now cool.
Chipped nail polish, for example, used to be thought scruffy and unkept, and now looks edgy and rock n roll. Even the New York Times, the last bastion of groomed Manhattans, cited chipped nail polish as a new trend for this summer.
So here's the beauty crimes that have gone from 'not' to 'hot' this season: Just read more
Oil for Faces: Who would have thought that putting oil onto greasy skin, could improve the condition, and even help clear up blemishes? A good Facial Oil, such as DHC's Cleansing Oil, (£16), will dissolve dirt and makeup, leaving skin super clean and soft.
Obvious hair colour. We've seen Lily Allen, go from brunette to pink, and back again, whilst Agyness Deyn and Pixie Geldof have been showing us that peroxide blondes have all the fun. Who wants to be natural now?
Glitter for grownups: Whether you go all out with the theatrical catwalk-inspired glitter eye look, or go for a subtle shimmer, with Stila shimmer powder, (£20). Glitter is no longer just for greetings cards.
Goth Makeup Once just for EMO kids and Camden-types, Gothic Glamour is the latest makeup trend for autumn/winter. Think smudgy eyeliner, dark lipstick and pale skin, but keep it romantic.
Fluffy hair: This summer is all about matte textures, as oppose to super-shiny, sleek hair. Go for the messy, candyfloss hair or polished dreadlocks trend.
Orange Makeup: Orange is one of the hottest makeup trends this season, and is the epitome of the Bright Lights, Bold Colour look. It all started with MAC's cult lipstick in orange, (£11).
Retro Hair Accessories: 80s favourite, the scrunchie is hot for summer, while adding an oversize bow, or silk headscarf, to your barnet, come autumn, is bang on trend.