Bella Book: Love Your Scar
With all of the fun that we have talking about makeup, fragrance, haircare, skincare, nails and beauty news, it's important to touch upon some of the serious topics surrounding beauty too. As I'm sure you know, October is Breast Cancer Awareness Month and the beauty brands that mark their products with a pink ribbon, are donating parts of their profits to the cause.
I have just learnt of a book so new, the ink is barely dry, but it's already available for purchase and definitely worth checking out, since according to Breast Cancer UK, one in nine women here are diagnosed with breast cancer. Adrianna Holman, a registered homeopath and healer with an expertise is in scar massage, is the author and it's called Love Your Scar.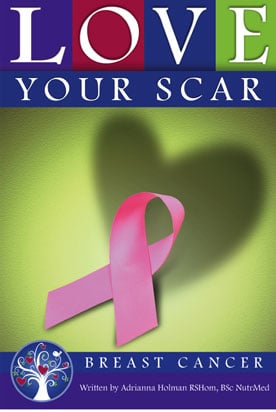 In 2002, she began working with London Bridge Hospital (without pay) helping cancer patients. During her time there, she came to realise how deeply people were being effected by their scars, and so she wanted to write something to help others take control of their own healing.
The book was written to coincide with breast cancer care, and is very much focused on women who have gone through breast cancer surgery. It's a manual and a guide to healing, but Adrianna also takes you through a layman's explanation of how the lymphatic system works and what happens to the body after surgery.
The 180 pages are broken down into sections such as: understanding your scar, types of surgery, exercise, nutrition and different ways to heal.
Whilst I hope none of you will ever have to personally use this resource, unfortunately breast cancer is on the rise. I think book is useful even before surgery, it isn't too technical and it's easy to follow with lots of illustrations. Next up for Adrianna is an expansion book about scars followed by another book called Love Your Eczema. Would you be keen to read up on breast cancer scars and post-treatment care for yourself or someone close to you?